A gravel parking lot, wedged between a Gaelic football pitch and a strip of farmland beside the ocean on Ireland's rugged west coast, could hardly be considered "off the beaten track." This isn't hitchhiking along the Hippie Trail. But considering most golfers visiting Ireland stay in Dublin or stick to legacy courses like Royal County Down, Old Head, and Waterville, this empty lot in the small town of Easky feels adventurous. I'm here because my rented SUV has struck a pothole that instantly blew out the front left tire. The wait for roadside assistance begins, with only cows for company and the distant O'Dowd Castle to stare at.
The pothole incident happened on a country road minutes from Enniscrone Golf Club, a three-hour drive northwest of Dublin. Enniscrone was on my radar after hearing 2019 Open champion, Ireland's Shane Lowry, describe it as, "Probably, the best course in Ireland off the beaten track." It is certainly the highlight of golf in Sligo—one of two neighboring counties in the west whose reputations are growing fast within golf architecture and travel circles.
Enniscrone's setting is breathtaking; a 27 hole-layout sitting on a promontory at Killala Bay, at the mouth of the Moy Estuary, with views of Ox Mountains and Nelphin Beg Range. The enormity of Enniscrone's dunes give an ancient and mystical feeling, particularly at No. 12, a downhill par 4 measuring just over 300 yards. Here, a grass-covered sandscraper stands over the green. According to Enniscrone folklore, this dune was a graveyard for Vikings killed in the ninth century.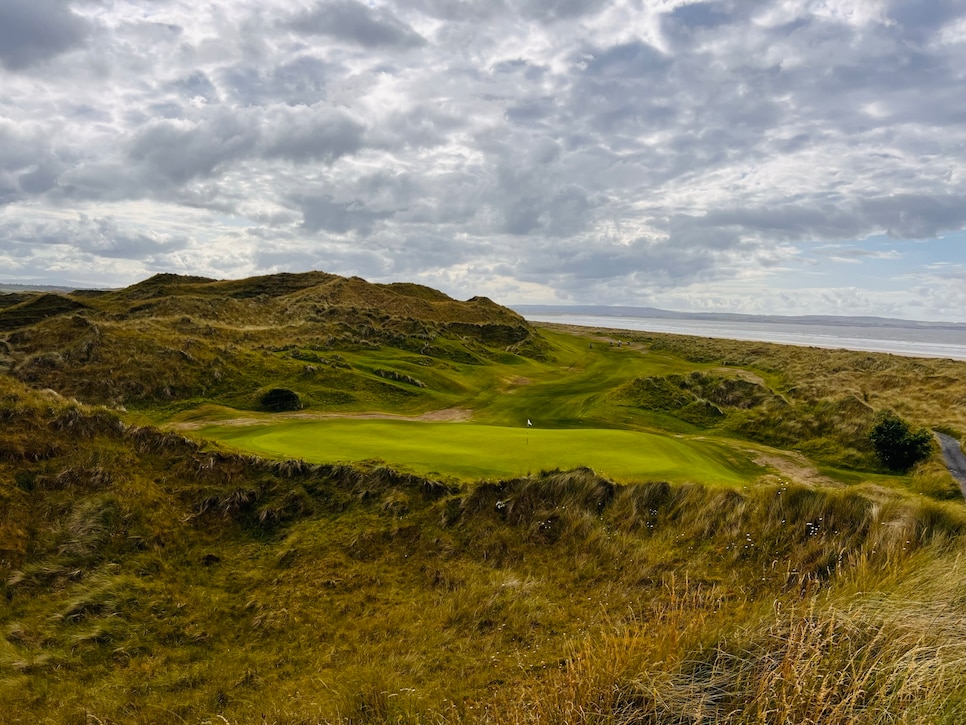 The par-5 16th green at Enniscrone. Evin Priest
Enniscrone was crafted by prolific Irish designer Eddie Hackett. His better-known designs include Ballyliffin (Old), Old Head, Carne and Waterville. But Hackett wasn't the only celebrated architect to make his mark in Sligo and Donegal; these two counties are littered with courses by Old Tom Morris, Harry Colt and Harry Vardon. There are courses you may never, but should have, heard of: Enniscore; County Sligo (Colt); Donegal (Hackett); Dunfanaghy (Vardon); Cruit Island (locals); and Portsalon (Charles Thompson).
Somehow, though, Sligo and Donegal have been overshadowed by more famous counties. Kerry, Cork and Clare in the southwest have Ballybunion, Old Head and Tralee. Dublin has Portmarnock, The Island, and Royal Dublin. Northern Ireland has Royal County Down, Portrush and Portstewart. The list goes on.
In the past three years, though, Sligo and Donegal have been illuminated by two modern course architects: Gil Hanse and Tom Doak. In 2020, Hanse completed a renovation of Narin and Portnoo Links in Donegal. A year later, Doak created the new 18-hole St. Patrick's Links from 36 previously abandoned holes at the Rosapenna Resort near Downings.
Narin and Portnoo is a seaside links featuring less severe dunes than Enniscrone, but it's equally as enchanting. It's undergone a revival under a lifelong member who had the means to save it from bankruptcy in 2017. Liam McDevitt, an Irishman now living in Westport, Conn., grew up in nearby Ballyshannon earning a pound per round as a teenage caddie at Narin. "In the summers, when I wasn't caddieing, I would use the beach as a practice fairway," McDevitt says. The course was laid out in 1905 and named after the two towns surrounding it. It was a par 69, cleverly routed along a magnificent coastline with beaches along Gweebarra Bay.
By the time McDevitt moved to the US in the 1990s, and established a successful real estate and construction business, Narin and Portnoo had lost its way. It had ballooned from a par 69 to a 73 courtesy of four par 5s on the back nine, including three in a row. Eventually, Narin lost its finances, too. "It was in a dark place when me and my business partner, Larry Foley, bought the debt," says McDevitt.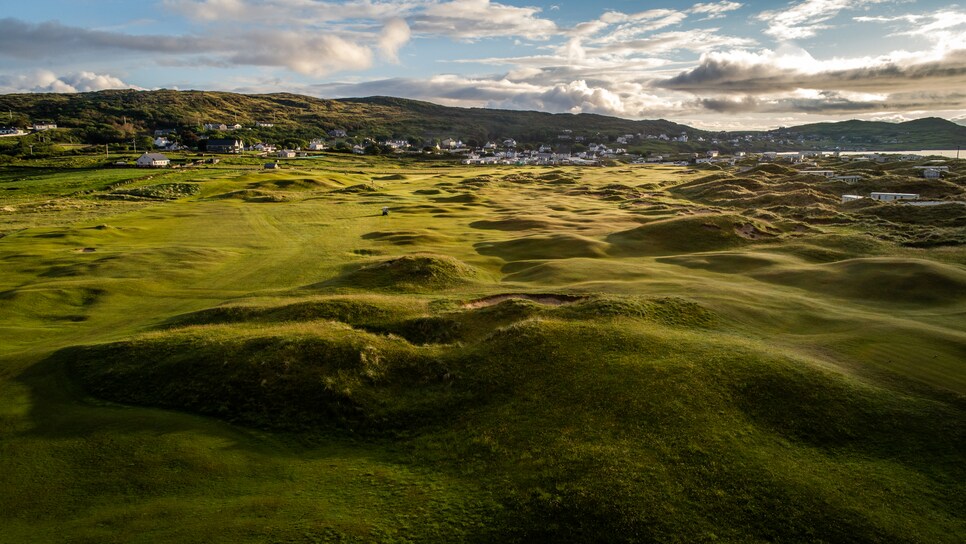 Courtesy of Narin and Portnoo
McDevitt and Foley knew it needed a world-class makeover, so they commissioned Hanse and his design partner, Jim Wagner, to renovate the layout in 2018. The duo were easily convinced after one visit. "The rugged beauty of that coastline and the people; everything about [Donegal] just speaks to me," Hanse says. "When Jim and I were working there, it was mostly wintertime. A hot shower and a warm bowl of soup just never felt better than in Donegal."
In late 2021, with the interest in traveling picking back up after the pandemic, Narin drew rave reviews from local and visiting international media.
Put simply, Narin and Portnoo is a renovation masterclass. It perfectly tempts and tests better players while providing a forgiving course for higher handicappers. Hanse and Wagner dug 15 new greens and created several new holes. Now, it's a par 70.
"Liam and Larry wanted Jim and I to explore some of the quirkiness of the property," Hanse says.
Like the downhill, 325-yard par-4 seventh. Here, the Atlantic Ocean sits behind a new green that is totally hidden by a hill from the right fairway, but easily visible from the left. "Exploring a corner of the property, down by Nos. 7, 8 and 9, was so fun," Hanse says. "On No. 7, we utilized a punchbowl green that's blind to half the fairway. On [the par 4] No. 8, we created a tee right out on a peninsula. I felt like the drama of the site existed in some of those bigger contours, and we wanted to embrace them instead of shying away from them."
The magnificent green site at the par-3 15th. Courtesy of Narin and Portnoo
The contours are best embraced in the five par 3s, none of which are over 150 yards. The new sixth plays over a ravine to a two-tiered green with the bay behind it, while the 11th green is wonderfully cut into the side of a small dune. The 15th (above) is a pitching wedge from the tee but has a severe sideslope on the righthand side of its infinity green. From there, a powerful crescendo begins with the hero shot of the round. The par-4 16th asks golfers to daringly tee off across Narin beach to a fairway bending to the right.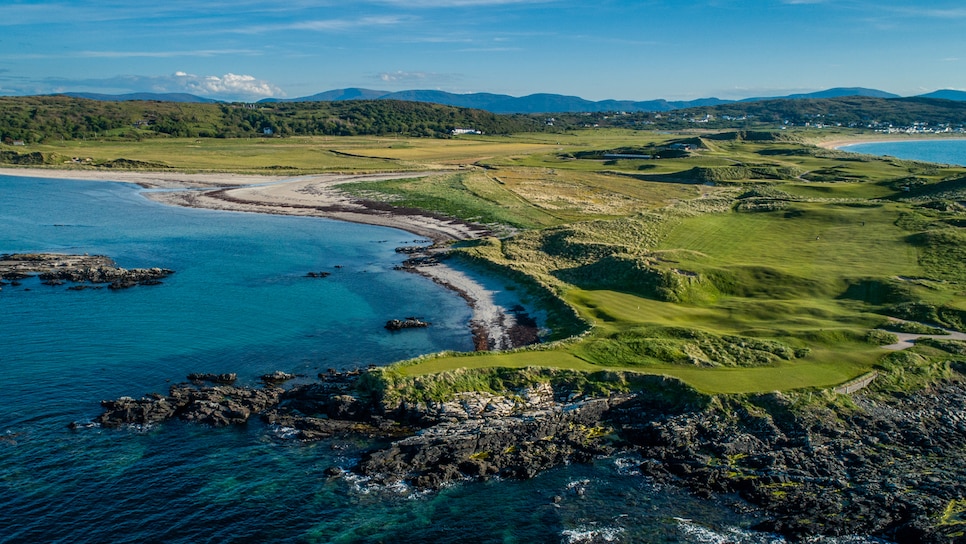 The corner at the seventh green and the peninsula tee at the eighth tee is Hanse's favorite corner of the property at Narin. Courtesy of Narin and Portnoo
"Being on a peninsula, Narin has three distinct sides and they're all different," Hanse says. "The bay, the mountain, and the rocky coastline. The last side has one of the prettiest beaches you've ever seen to finish a round."
Just 50 miles north, Doak built a new course, debuting about a year after Narin's reopening. It's called St. Patrick's Links at the Rosapenna resort, which is owned and operated by brothers Frank and John Casey. The two took over from their father, Frank Casey Sr., who bought the resort in 1981.
Rosapenna is an elegant, seaside hotel boasting three courses (Old Tom Morris Links, Pat Ruddy's Sandy Hills and St. Patrick's) as well as a charming pitch and putt. At Rosapenna, Doak has crafted a layout different from them all by using a jaw-dropping 370 acres of grasslands and dunelands looking over Sheephaven Bay. It's signature Doak—many of the fairways are so wide golfers wonder if they're aiming in the right direction. But from the wrong side of the fairway, approach shots can be intimidating at best and impossible at worst.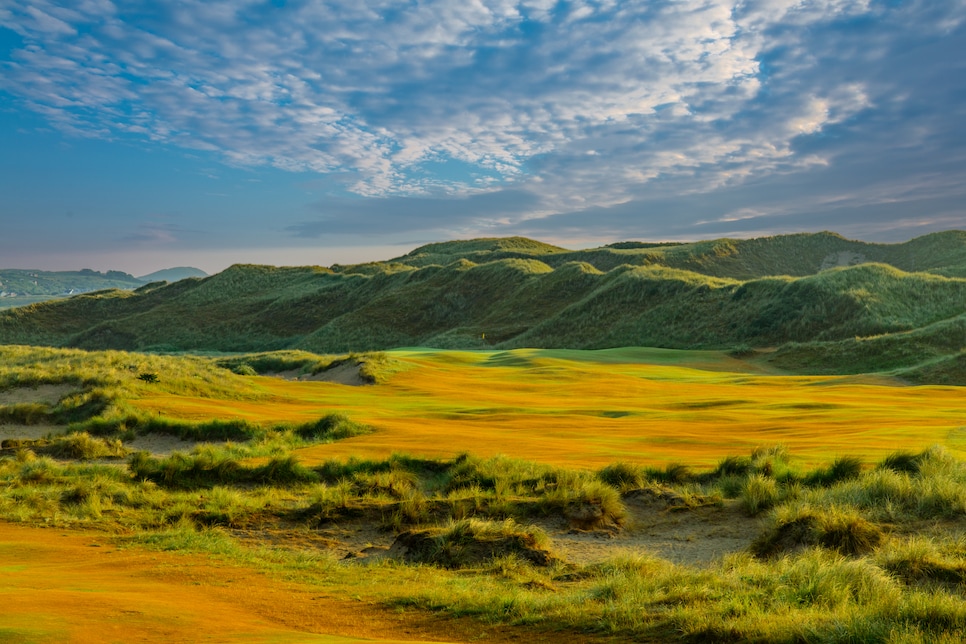 The sixth hole at St. Patrick's Links. Laurence Lambrecht/Courtesy of Rosapenna
"The property is dominated by a large hill in the center that rises more than 100 feet above the bay," Doak says. "One of the tricks to the routing was to get up there to enjoy the view without building any inferior holes on the way to the top."
Like his work at Cape Kidnappers, where he routed some holes along cliff fingers 500 feet above the sea, Doak has blended dramatic ocean views with thoughtful inland holes, as well as sequenced drama. St. Patrick's first three holes are inland, played between, and over, mammoth dunes before panoramic sea views hit golfers on the fourth tee.
The fifth hole at St. Patrick's Links. Laurence Lambrecht/Courtesy of Rosapenna
The same happens on the back side, beginning with three inland holes before another climb up a mountain overlooking the water at No. 14, with two par 3s mixed in before the wildly fun 18th. It's a drivable hole with a deep swale short right of the green—with a few yards being the difference between looks at a birdie or a likely bogey. All throughout the round, the ground game is encouraged on approaches. Fairways blend into the front of most greens, but whose internal contours are among the most extreme Doak has built.
Golfers will come for St. Patrick's, but they'll stay for the other two courses. Sandy Hills is fun but a brut, while the magnificent and gentle Old Tom Morris links has stood the test of time since its 1893 opening. That's thanks to input over decades from Morris, Vardon, James Braid and Colt. "The combination of modern and classic architects having worked in Donegal, an area of such natural beauty, is why it's now getting a certain [level of] attention," says Hanse.
Northwest Ireland welcomed more of that attention after the 2019 Open Championship at Northern Ireland's iconic Royal Portrush, just two hours away. Over the past four years, publications like this one and social media accounts have continued to discover Northwest Ireland's best golf. Another one of those gems is County Sligo, the annual host of the West of Ireland amateur championship. Past winners of the event include Lowry, Rory McIlroy and even McIlroy's caddie, Harry Diamond. County Sligo, for the most part, feels like an English or Scottish links with its refined fairways, rough and bunkering. The first two holes play almost 500 feet uphill before golfers are blessed with incredible vistas from No. 3 tee across the remaining 16 holes and out to the Atlantic Ocean. Benbulben, a glacier-cut rock, is also a cool background.