The adage "drive for show, putt for dough" once defined the approach to playing professional golf. But stats professors and doctoral number-crunchers have dispelled that myth, offering hard data to show the advantage golfers receive for hitting the ball even just a metre or two farther than they already do. In turn, modern players on the PGA Tour and LPGA are in an aggressive pursuit for added length.
Inbee Park understands the logic behind the chase for distance. But she's got her own numbers that tell her something different, something perhaps solely unique to her own game. Where others zig, the 32-year-old has zagged… straight into the LPGA Hall of Fame.
Ranked No.2 in the world, Park is a 21-time LPGA winner, a seven-time Major champion and Olympic gold medallist. And the bulk of that success has come after her decision a decade ago to swing more effortlessly and, in the process, decrease her distance.
Park finished the 2010 season averaging 262 yards (240 metres) off the tee, the longest of her career. At the time she had just one win after four seasons on the LPGA – the 2008 US Women's Open, when she became the youngest player to win the championship. Park wasn't satisfied with her game, and so with her coach Gi Hyeob Nam, she went to work to build Park's now famous pendulum-like swing.
"Pretty much from scratch, he really helped me because I didn't have my own swing," Park said. "From 2011, I learned how to swing the ball and release the ball and how to work the ball around the pins. I got a lot more imagination with my ball-striking."
The changes to the swing involved a tradeoff. Park gave back 18 yards off the tee from 2010 to the 2013 season, dipping to a 246-yard driving average. However, she saw the rest of her game improve, her new swing turning her into an impressively consistent ball-striker. Add to that a top-notch short game, and well, victories soon followed.
Park won the first three Majors of 2013, joining Babe Zaharias as the only LPGA players to accomplish the feat (Zaharias did it in 1950, the tour's first year). Park won three other LPGA titles that season, double the amount she'd won in her career to date.
That dominant run continued for seasons to come. Park won 14 times from 2013 to 2015 despite giving up significant amounts of distance to her competition. Consider that in 2013, she averaged six yards less off the tee than the average LPGA winner, her own average leaving her 79th on tour in driving distance.
In 2011, Park changed her swing and saw her driving distance drop below the average distance of LPGA winners. Since then, she's won 20 LPGA events, six Majors and an Olympic gold medal.
As the years have passed, Park has seen her distance hold steady, with technology's incremental gains accounting for increases in her stats and allowing her to maintain the distance she had at age 24. So far in 2021, Park is averaging 245 yards (224 metres) off the tee, which puts her 140th on tour out of 155 players. The average of the winner's average drives in 2021 is 263 yards (240 metres).
"Gaining distance is great, and it is so much better to hit shorter irons into greens, that's for sure," Park said. "There's no doubt about that. I think it's just a choice. I am not going to be 280 off the tee, regardless of how hard I try. I kind of ask myself a question, Do you want to be 10 yards longer and risk a little bit of your consistency? I said no. I want to hit it more straight, more consistent, more comfortably."
Park didn't always accept the answer to that question. Up until two or three years ago, she challenged her approach by briefly trying to see if she could comfortably gain distance during the offseason. Park gave more effort in her swing, breaking her rhythm to find five to 10 more yards that she knew was there if she called upon it. Ultimately, though, she never tried it for more than a week, reaffirming her answer and sticking to her strengths, ensuring she can maintain a pace with a rhythmic swing she says she gives a 75-percent effort towards instead of going all out like some of her peers.
"I can hit it five, 10 yards further, but I'm just going to lose consistency," Park said. "I am playing golf almost every day. I'm playing in a tournament 25 weeks in a year. You don't want to be hitting the ball too hard to try to push for something. You have to play golf comfortably, and not try to hit it hard every shot."
The most significant consequence of the distance off the tee is the gap on approach shots. Throughout her career, Park has come to expect she might be holding a 6-iron while her competitors are using 8 and 9-irons. There were times that it bugged her, but the results helped her get over that quickly.
Based on the course layout, she faces even steeper differences in distance. During the opening two rounds of the LPGA Mediheal Championship earlier this month, Park played with the lengthy American duo of Lexi Thompson and Angel Yin. In the opening round, on the 474-metre par-5 18th, an uphill tee shot, Park's drive sat 60 metres behind Thompson's. They both birdied the hole in their own styles, with Thompson gouging her way up to the green and Park cleaning up an uphill putt to write 4s on their scorecards.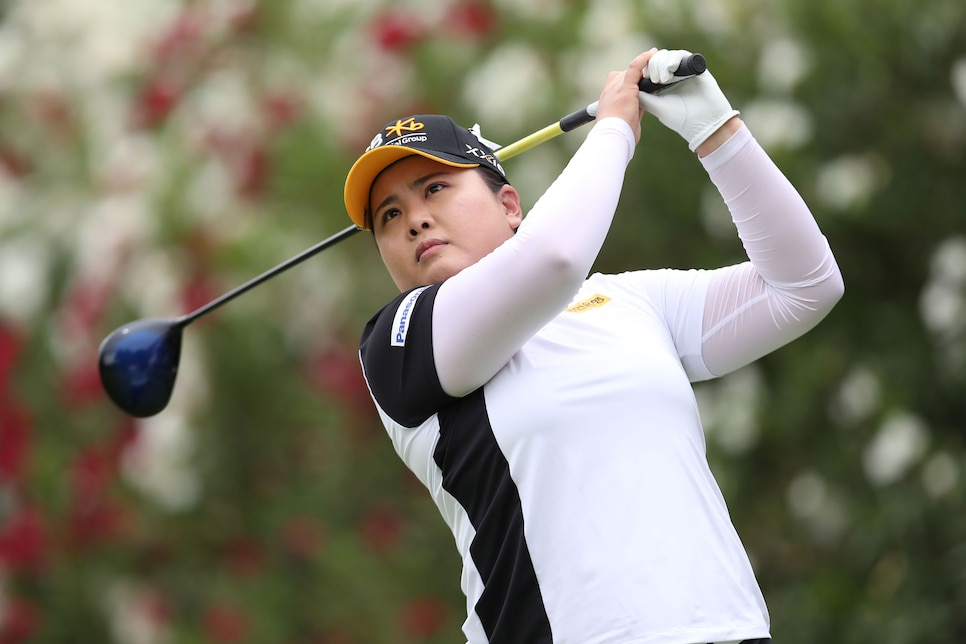 Park's course management and putting has served as a model for the rest of the tour. Fellow South Korean A. Lim Kim, the 2020 US Women's Open champ, is playing in her first full year on the LPGA and is the second-longest hitter on tour (281.8 yards/257.7 metres). Her approach to the game couldn't be more different. Kim's address is closer to a power lifter than a golfer, her lower body twitching to fire her driver or perform a snatch and clean. She works out six days a week to fuel her game and mind. Despite the 30-plus-metre gap in their average drives, Kim tries to emulate Park's approach on the course.
"She thinks Inbee is the standard," Kim said through her translator. "She makes it so that everything is easy to play, and she wants to follow her mind."
As she prepared to play in the KPMG Women's PGA Championship, a tournament in which she has finished in the top 10 in nine of the past 12 years, including three wins from 2013-2015 and a runner-up last October at Aronimink Golf Club, Park's steadiness is as apparent as ever. After winning her first start at the Kia Classic, the second-winningest golfer of all-time on the LPGA Tour from South Korea has only one finish outside the top 15 in nine starts this year. Park's one outlier was a T-29 in the Mediheal at Lake Merced Golf Club.
Seo Yeon Ryu, a good friend of Park's and a two-time Major champion, values the game Park brings to the table in her 15th season on the LPGA. "It's kind of good to have Inbee keep playing well as a not long hitter because you could learn distance is not [the only thing]," Ryu said. "Let's focus on what I can do better instead of what I cannot really do."
In seasons Park averaged more than 250 yards off the tee, she's won twice. In season's she's averaged less than 250 yards, she's won 19 times. Instead of chasing a weak point, Park's focus on her strengths keeps her near the top of the world, with no signs of her slowing down any time soon.
TOP/MAIN PHOTO: Scott Halleran