[IMAGE: David Cannon]
As Billy Horschel made his way to the interview area after a third-round 63 that left him tied for the lead at the Wyndham Championship, a nearby television monitor showed the CBS coverage, where a different interview with Horschel was playing – the infamous near-confessional after his opening 84 at the Memorial.
With tears flowing, Horschel told reporters that his confidence was "the lowest it's been in my entire career."
That honesty and vulnerability guaranteed that his words would go viral, but what's often lost in that interview is something else he said that looks more and more prophetic:
"It's funny, as low as it feels, it feels like I'm not that far off at the same time. Which is insane to see when you see me shoot 84 today. … It wouldn't make sense to a lot of people. But I don't think I'm that far off."
Two months later, Horschel has made good on those words in Greensboro and now has a chance to nab his first win of the season. He'll play in the last group on Sunday at Sedgefield Country Club with Lucas Glover, also at 18-under following a scorching 62, and Russell Henley, who held the 36-hole lead and will chase from a shot behind following a 65. (On this course, 65 is somehow akin to running in place.)
Horschel switched putters this week to get a better feel for his long putts and to try to cure a left miss, and currently leads the field in strokes gained/putting, which says it all. On Saturday, he made three birdie putts of 10 feet or longer.
When asked if there was anyone specific who helped him as he tried to change June's tears into August's triumph, Horschel dropped a surprising name: former West Ham United star Mark Noble, who played for the English Premier League side from 2004 to 2022. Known as "Mr West Ham," Noble now serves as the club's sporting director.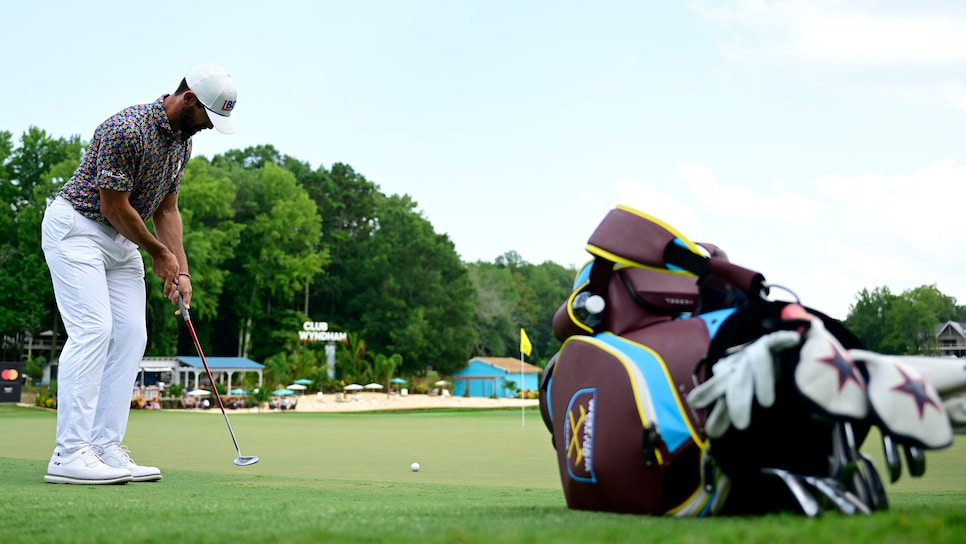 Horschel, a Florida alum who lives and breathes Gators football, might seem to be an unlikely soccer fan, but he's been a diehard's diehard for more than 15 years. It started when he saw the film "Green Street Hooligans," a drama about West Ham supporters, and today he not only watches every match, but has the club's crest on his bag.
He calls soccer "football," and when he's among British company, he'll even go so far as to use the term "American football" for the US version of the game. (You have to imagine there are at least a few Gainesville tailgates that would kick him out for that kind of transgression.)
In 2021, after winning the WGC-Match Play, Horschel got a text from Noble – who knew he was a supporter – congratulating him on his victory. They struck up a friendship, and before long the two were playing together, and today they meet up when Horschel travels abroad.
Through Noble, he's gotten to know some of the club's owners and players. And when Horschel had his low moment at the Memorial, Noble was one of the friends who reached out – and the first one Horschel thought of on Saturday when asked.
"He's a West Ham legend," Horschel said. "He actually texted me two days [after the Memorial meltdown]. He said, 'Hey, sorry I'm two days late, but I couldn't write this text because I was so emotional writing it.'
"We are very much wired very similar … he was like, 'listen, there's a lot of times I would come home, and I would cry because we were playing so bad, or I'd be doing everything I can to get the team to play at a higher level and it wasn't happening.'
"Just him sharing that with me," Horschel continued, "him telling me … how great of a player I am and a person I am. Just those little things. Even though I may know that about myself, it never hurts to hear that from people that you love a lot."
Noble certainly wasn't alone in reaching out. Horschel was inundated with support from friends and strangers alike, and today he credits that moment for helping him turn his game around.
"It was sort of like a release," he said. "I don't fully understand why it happened then and there, because I had shared some of that with my team and my family before leading up to that. But right then and there it just happened; from that moment I've been in a better head space, the game's been going in the right direction since then."
When told that it was a good advertisement for why men shouldn't repress their emotions, Horschel went broader.
"I don't think anyone should," he said. "My wife, with her addiction to alcohol and mental health issues, I think learning more about that side of it. I've tried to tell people, I said, 'Hey, just share it with somebody.' It's amazing how when you can just get it off your chest, you feel a little bit better about yourself that you're sharing it with someone. And you never know what happens when you do share it with someone. They may be feeling the same thing you are, and they can relate. … I wish more people would be more open and more honest, but I know everyone's not that way."
A year before his press conference at the Memorial, in June 2022, Horschel won that tournament. It remains his last victory, but thanks to his openness, his willingness to work, and the help of a group of friends that includes an English football star, he'll have a chance Sunday to revisit the Memorial in the best way possible.