They played the LPGA's 2022 season opener in Florida, but from the looks of players all bundled up over the weekend at Lake Nona Golf Club, it might as well have been in Canada. Shorts and short sleeves worn on Thursday and Friday at the Hilton Grand Vacations Tournament of Champions in Orlando (where LPGA winners play alongside celebrities) were quickly covered by long pants and jackets on Saturday and Sunday as sunny and 20 degrees gave way to overcast, windy and 10.
Luckily, Danielle Kang has been preparing for that exact weather. During the off-season, the 29-year-old LPGA veteran made a point of working on her cold-weather game, in part because she wants to contend at an AIG Women's British Open. Who knew it would come in handy a bit early. Adjusting quickly to the change in temperature, Kang shot a final-round 68 for a 16-under 272 total to claim her sixth career LPGA title.
In addition to wanting to win another Major, Kang's desire to play better at the AIG is directly tied to her caddie, Olly Brett, who has been on her bag for five years. Brett is from Leicestershire in England, so naturally he wants to caddie for an AIG Women's Open winner. Kang, whose lone Major title is the KPMG Women's PGA Championship, admits the Women's Open hasn't seen her strongest showings. Specifically, she knows she needed to work on figuring out how to play in the cold.
"It's being able to try to swing with how many layers I have on, what's the max, what I'm capable and not capable of doing," Kang said. "There are certain shots I can't do, shots I can't hit during the cold weather, and I just take them out of my arsenal."
Kang knows she loses distance when it gets cold, but learned to gauge better just how much. At Lake Nona, she said she was hitting 5-woods and rescues into greens during the weekend when she'd been hitting 8-irons in the opening two rounds. She also realised her go-to shot, a draw, doesn't work as well in the cold.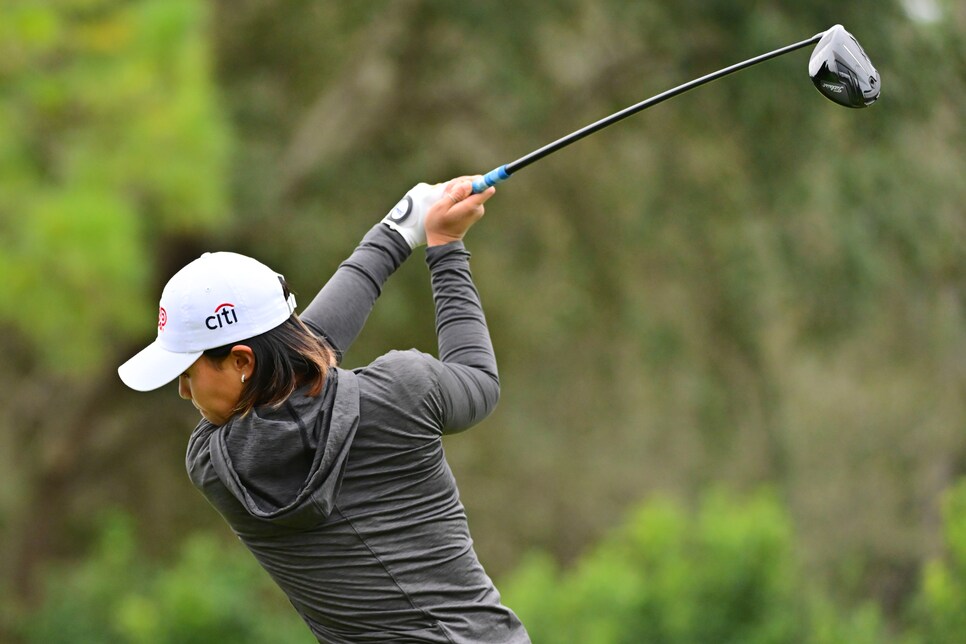 "I'm always a right-to-left shot player. And then in the cold my lower body doesn't go through as well, which means I change to more of a cut," Kang said. "I worked on a lot of fades and cuts this off-season and I was more comfortable with them, and that's what I played."
Despite having "never misread putts more", Kang was able to separate herself from the field today even under difficult scoring conditions. Hitting 12 fairways and 15 greens helps. From holes 11 to 15, she made four birdies, going from three behind to in front. She never lost the lead, stretching it to as many as four shots. She survived a nerve-wracking two-putt from more than 100 feet on 16 for bogey, and getting up and down from long and short-sided on 18. In the end, she finished three shots ahead of runner-up Brooke Henderson.
Despite her putting, despite the cold, despite a few bad lies, despite playing alongside celebrities rather than the other players atop the leaderboard, Nelly Korda (who started the day with the lead but closed with a 75 to finish T-4) and Gaby Lopez (72, outright third), Kang was never rattled. And after the victory, her first since August 2020, she said she didn't feel elated, instead: "It feels really peaceful actually. I feel peaceful today."
For how awry things can go at a the Open (or any golf tournament for that matter), a peaceful, unflappable demeanour might be the most powerful tool she can add to her game.
On the celebrity leaderboard at the Hilton Grand Vacations Tournament of Champions, Annika Sorenstam made a clutch up-and-down par on 18 – Annika and clutch have long been good friends – to force a playoff with former major league pitcher, Derek Lowe. Lowe beat Sorenstam in the playoff, and looked stunned that he had been able to do so at the post-round press conference.
"It is honestly like one of the biggest events I've ever been part of or win. To play against Annika Sorenstam, how many people can say that, in a playoff, and to prevail? It was a great day," Lowe said. "Vegas would've probably had me as an underdog, I can tell you that. Having met her yesterday, she is a special person, special human being, and I won one hole is basically what I did against her."