Take the most iconic bridge in golf, one that has been traversed by nearly all of the game's greats, from Old Tom Morris to Tiger Woods, and dress it up with stonework that you could buy at Bunnings, and yes, you're going to get a wee bit of reaction from the golf world.
@warrenallsworth: "Just no. That's like drawing a moustache on the Mona Lisa."
@jabba2711: "The only thing missing is wrought iron patio furniture."
@gettablepar5: "Looks like DIY stonework by a complete noob."
@johnhuggan: "Oh. My. God. Who sanctioned this monstrosity?"
The answer to that last rhetorical question, posed from Golf Digest contributor and proud Scotsman John Huggan, is the Royal & Ancient of St Andrews, the 269-year-old club that has set Golf Twitter ablaze now that photos are circulating of a new, roundish stone pad that has been laid on the entry side of Swilcan Bridge on the 18th hole of St Andrews' Old Course. As evidenced by videos and photos from December, the work was done at the end of last year.
I was there in December helping open the new Topgolf in Glasgow. Got some good photos but seeing this was kind of like going to Disney World and the castle being under construction. pic.twitter.com/lT9JfT4HPv

— Craig Cox (@craigdcox17) February 4, 2023
Let's just say it's not being well received. There are some hilarious responses, including one photo rendering of patio furniture and a barbecue on the site. But there's genuine disgust, too, as if the R&A slapped a windmill onto the side of its stately clubhouse.
https://twitter.com/KayRoss96/status/1621937096184193025
Swilcan Bridge, arched and a mere 10 metres long, is inarguably the most iconic feature on any golf course in the world. In terms of golf bridges, the trio at Augusta National Golf Club – Hogan, Nelson and Sarazan – are very nice, but they're only about 700 years younger than Swilcan, which was used as a crossing for shepherds and their livestock before golf's first-ever swing. Shepherds!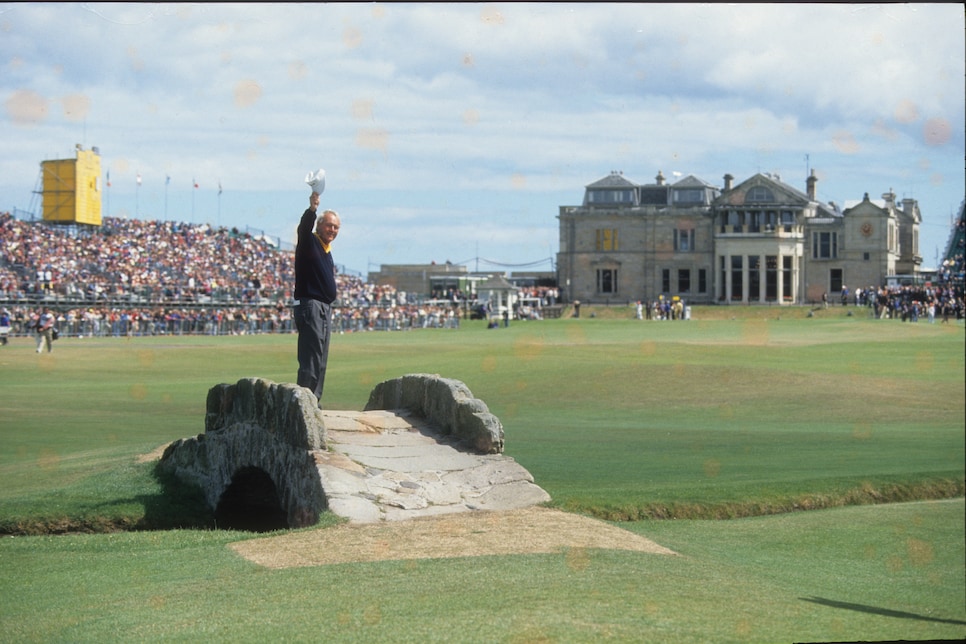 It's also the most cherished photo 'get' in the game, with the stunning background of the stately R&A clubhouse as the backdrop. Since Sam Snead and Arnold Palmer and Jack Nicklaus have deemed it worthy of a photo stop during their farewells at the Open Championship, golf tourists must have a photo there. (Tiger, it should be noted, caused a stir last July when he did not stop for a ceremonial photo, a move interpreted by many that he intended to return to St Andrews as a competitor.)
Without any explanation yet from the R&A, we're left to speculate as to why the pad was necessary, because it just seems so… cheesy. Is it a safety concern, so that photographers don't get too close to Swilcan Burn? Is it to focus standing near the bridge in one spot? Will it become a wedding venue? Is there anyone who thought this would be aesthetically pleasing?
Anyway, there are people who thinking this is much ado about nothing. Tweeted @itismarkharris: "Golf Twitter being upset about an admittedly horrible remno of the Swilcan Bridge is peak Golf Twitter. It's just a bridge. Everything is going to be OK."
Sure, and the Mona Lisa is just another painting.