[PHOTO: Ross Parker/R&A]
It all turned out all right in the end. For the USA that is. But only just. Although armed with what appeared to be a vastly superior side (if the World Amateur Golf Rankings are to be believed) it wasn't until Georgian David Ford won the 26th of the 26 games (one was still to be decided) and took his side over the 13½-point winning threshold that the American side eventually clinched victory in the 49th Walker Cup match on the Old Course at St Andrews.
Until then, doubt of varying degrees permeated what turned into the visitor's 39th victory (against nine losses and one halved match) in golf's long-running biennial contest, one that stretches back exactly a century. At the conclusion of each of the first three series of matches over the past two days, it was the Great Britain & Ireland side who led. But by the close, that had changed, the final score 14½-11½ to the visitors, who have now won the trophy four times in succession.
While it is forever invidious to single out individuals within a team contest, much credit for his side's success must go to the world's No.1 amateur, Gordon Sargent.
Ludvig Aberg makes strong Ryder Cup case with stunning win; Matt Fitzpatrick, Robert MacIntyre secure automatic spots for Europe
Although only two of his teammates failed to score even one point, the junior at Vanderbilt University was the only player on either side to emerge from this hard-fought contest with an unbeaten record, winning all four of his matches. Every one of the other 19 participants lost at least once.
But even Sargent had his struggles. The 1-up victory over Englishman John Gough he all but clinched with a magnificent 3-wood to the 18th in the second series of singles was the third of his four wins to conclude on the final green. In all, Sargent had to play a tiring total of 70 holes over the two days.
"This is the biggest achievement of my career so far," said the young man from Birmingham, Alabama. "Winning four points for the US is huge, especially seeing what it means to everyone else. It's such a big deal. I played well all four rounds and capped it off with what was my best shot of the week on the 18th tee. It was a full 3-wood. My caddie told me on the tee I could rip it, so I did. I don't see going up the right side as aggressive. I've been hitting the ball well all week so I just went ahead and hit it.
"What is really nice for me is that, in matchplay recently, I've had trouble finishing games off down the stretch," he continued. "So this week it's been nice to see some success. To win three matches on 18 is huge. This just gives me so much confidence. We don't play a ton of matchplay. But to see some success is nice for me to take back to college, where there is some matchplay. To know I can compete with the best players in the world is pretty special."
Certainly, Alan Tulleth, Sargent's caddie, is one who has no doubts as to where his man is headed.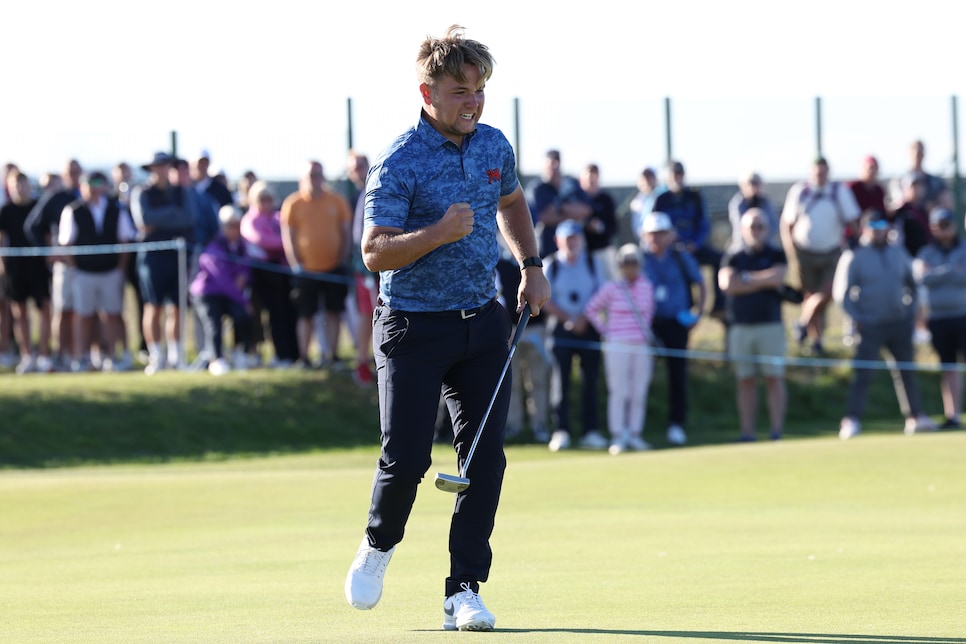 "I think he can go to the very, very top," said the man who makes his living walking the Old Course. "Everything about his game is absolutely amazing. If he keeps working hard, I can see his career going only one way."
Before that, however, the Americans had some celebrating to do, much to the relief of captain Mike McCoy. The Iowan narrowly dodged adding his name to what remains a short list of two (Francis Ouimet and John M. Winters) visiting Walker Cup captains who have lost at St Andrews.
"We just played hard, right to the bitter end," said the 60-year-old, who was part of the most recent US Walker Cup team to lose, at Royal Lytham in 2015. "We had those two [North Carolina] Tar Heels [Austin Greaser and David Ford] in those last two spots. I had a lot of confidence in them. Nick Dunlap fighting through to get a half point [from 3 down with four to play against Barclay Brown] was huge, and, of course, Caleb [Surratt] led us off by beating Calum Scott. They all played great. But I feel very fortunate. All credit to the GB&I team. They really fought hard. It was, I think, an epic Walker Cup."
On the other side of the aisle, GB&I skipper Stuart Wilson was rightly proud of his 10-man squad, all of whom recorded at least half a point against a visiting team most observers felt would triumph handily. A rare feat for any losing team, that statistic alone speaks to what was a stubborn and persistent performance by Wilson's men, whose leading points scorer was Irishman Mark Power (3-1-0).
"I'm obviously disappointed," said Wilson, who won the Amateur Championship over the Old Course 20 years ago. "We always knew it was going to be a tight match. Everything went our way yesterday; six matches went up the last, and we got four-and-a-half points out of them. But all the momentum was on the US side today. Things seemed to be going their way. But they are a great side, and they handled the conditions a lot better than our guys. We had a nice lead this morning, but we let it slide quite a bit in the foursomes. The guys will be hurting most because they know themselves that they haven't turned up this afternoon in the way we know they can."
Indeed, as Wilson hinted, there was ultimately a familiar feel to the final day's singles. Of the 10, GB&I won only two. As so often and in the end, the greater depth in the US squad made the crucial difference.