As it turns out, PGA Tour rookie Davis Thompson shares more in common with Davis Love III than just his first name. Both are tall—Thompson is 6-foot-4, and World Golf Hall of Famer Love stands 6-foot-3—and both reside in St. Simons Island, Ga. In fact, Thompson's father, Todd, is tournament director for The RSM Classic, which is hosted by Love and his foundation.
Both players can also crush it, largely because of the ultra-wide swing arc and leverage they create at the top of their backswings, says Eric Eshleman, who has been coaching Thompson since he was 12 years old. The height of the clubhead and the distance between Thompson's hands and left toe (above, fourth image), Eshleman says, is reminiscent of Love, one of the game's longest hitters in the late 1980s and '90s.
"We always work on using that big body frame to his advantage," says Eshleman, one of Golf Digest's Best Teachers in Alabama. "We have this saying: If I move a little, it's a little; if he moves a little, it's a lot. We try to keep his body action very simple and let all that leverage do the work."
Thompson averaged a robust 310.7 yards in 2023, good for 19th in driving distance on the PGA Tour. The former two-time, first-team All-American at the University of Georgia also ranked fifth on tour in par-5 scoring (4.47 average). At The American Express in January, in which Thompson finished runner-up to Jon Rahm, he eagled the par 5s five times in the first two rounds.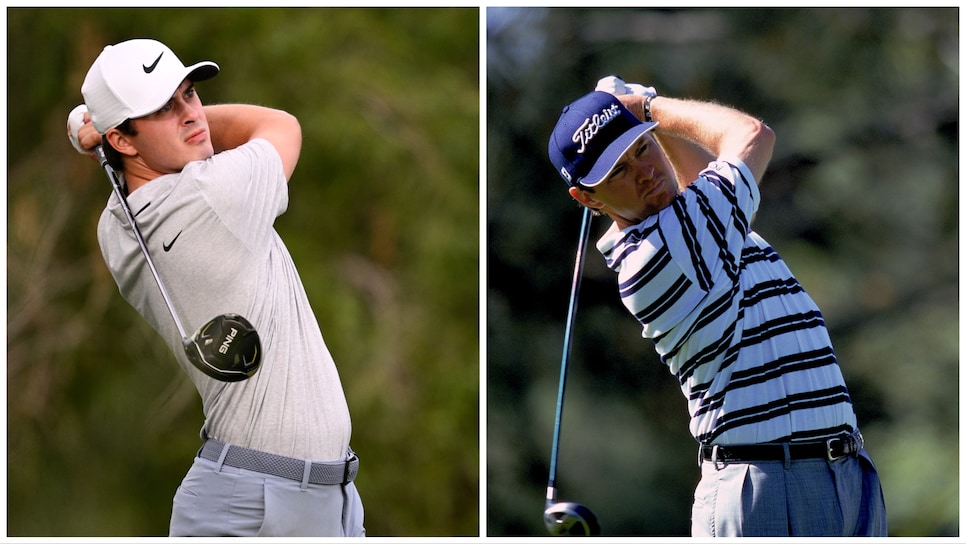 Getty Images
The key to establishing all that width on the backswing, says Eshleman, is making sure that he extends his arms away from his body before he begins his turn (above, second image). If he rotates too soon, the arms get sucked inside and the plane of the club gets too vertical, leading to a pull or flare to the right.
"We want his arms working slightly out on the takeaway to slightly deeper at the top, instead of working in and up," says Eshleman, the director of golf at the Country Club of Birmingham. "The feeling that he has is that he's throwing a bucket full of water over his trail shoulder at the top of the backswing."
Thompson describes it as "keeping his left arm more connected to his chest at the top." When he stays "connected," the amount of width he creates is significant. From there, he drops his trail arm in front of his right hip (above, fifth image), which shallows out the club so that it can approach the ball from the inside. At impact, his left leg is posted, and he's pushing hard off the ground, which allows his arms to go into full extension and unleash all that leverage.
"His swing just screams athleticism and effortless power," Eshleman says.
This article was originally published on golfdigest.com