Addition by subtraction is hardly a new concept, but it's a novel one when it comes to the approaching Presidents Cup.
That's how US captain Davis Love III assesses the landscape for the 14th edition of the biennial matches slated for September 22-25 at Quail Hollow Club in Charlotte. Players who may have been on his team or on Trevor Immelman's International team are now ineligible because they have opted to compete on the LIV Golf series and have, by their actions, indicated their lack of interest in the matches.
"Now we're really, really separating the guys that are passionate about [the Presidents Cup], and I think probably it will help both teams because we know everybody who really cares and is all in for it," Love said Thursday (AEST) at Firestone Country Club. "I think these guys that want to play, it's not going to be any different at the Presidents Cup; they're going to want to win. They saw Steve Stricker's team get on a huge roll in New York [in 2017], they saw Tiger Woods' team make a great comeback in Australia. They want to do that. They want to be a part of that."
Currently, Love has not lost any of the top 12 players on the US Presidents Cup points list, but No.13 is Talor Gooch, who was in the top 12 when he signed up for the first LIV event in London prior to the US Open. Members of the last US Ryder Cup team that won in record fashion last autumn at Whistling Straits but who are not eligible for the Presidents Cup include Dustin Johnson, Brooks Koepka and Bryson DeChambeau, though all three were far down in the points standings.
On the International side, the losses have been more substantial. Louis Oosthuizen, Charl Schwartzel and Abraham Ancer were highly likely to make the 12-man roster before their defections to the LIV series.
Love, 55, who is making his debut in this week's Bridgestone Senior Players at Firestone's South Course, said he talked extensively with Johnson before the two-time Major winner made the leap to the Saudi-backed tour run by Greg Norman. Johnson went 5-0 last autumn to lead the American team to a resounding 9 1/2-point drubbing of Europe.
"I asked Dustin if he understood the decision he was making, that he was an American golf hero after the Ryder Cup, and if he was ready to give all that up, and he said he understood," Love said. "Dustin was probably the most honest about the whole thing, and I respect that. You know, he just wants to kind of ride off into the sunset."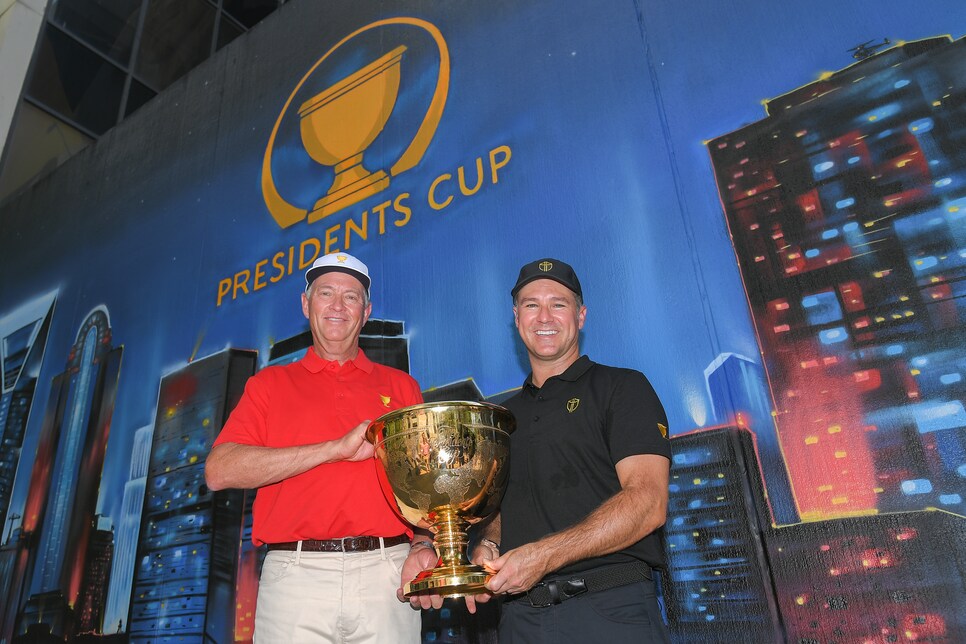 Love has been in communication with prospective US team members for much of the year but admitted that he has had to omit the LIV Golf contingent, which also includes Patrick Reed, who had been a firebrand on past Presidents Cup and Ryder Cup teams.
"We've got guys who are on the list who really aren't on the list … [but] it's going to sort itself out," he said. "We're going to take 12 great players to Charlotte. It's going to be a very young team, and I'm excited about it. They're excited. You look at guys like Max Homa, that level of excitement is beneath getting ready for the FedEx Cup Playoffs and everything else that's going on. They're excited about it. Scottie Scheffler had a taste of it at Whistling Straits, and he's excited about it. Hopefully, we will get a couple more new guys that haven't played and that excitement will carry us through."
Stricker, captain of last year's US Ryder Cup team, doesn't envision the Presidents Cup being adversely affected because the talent level in golf is substantial.
"There's so many good players on the US side and all around the world, on the European side, International side, that the difference between some of these players is so small that some of these players that have gone over there you'll miss and some of them you won't," said Stricker, the defending champion at Firestone. "I believe that we'll be OK in both team events. There's enough great players around that will make for a great [Presidents Cup]."
Justin Leonard, who represented the US in five Presidents Cup matches and three Ryder Cups, agrees. Leonard, on a break from his broadcasting duties with NBC, makes his PGA Tour Champions debut this week.
"It's going to be a great event," Leonard said of the Presidents Cup, where he'll work for NBC and Golf Channel. "There are some great young players. And I think this just gives those players, especially on the International side, some opportunity to step up, as the young players did in Melbourne [in 2019]. I thought it was great how the International team played. I'm a friend and a big fan of Trevor, just as I am of Davis. I want, from a TV perspective and a fan of the game, a very close contest. After what we saw at the Ryder Cup, that may be a little more difficult. But you always got to be aware of the underdog in international team competitions."
Love dismissed the notion that the tour – and the Presidents Cup – is in any way diminished by the loss of certain players.
"The tour moved on from Jack and Arnold. Believe it or not, it survived," said the 21-time tour winner. "We never thought it would survive without Jack and Arnie. It moved on from Greg Norman and Fred Couples, you know? It's going to move on from Tiger Woods … that generation. The tour's going to survive and have a new generation.
"So I think the Presidents Cup is going to be just fine."