Editor's Note: Golf Digest is breaking down everything you need to know about college golf from the recruitment process to advice from pros who've been through it to the best collegiate courses. Check out the complete syllabus below.
The easiest path to college golf has coaches flocking to you with scholarships in hand. It's also the least likely. More often, players should expect to take at least the first step. If you're not quite sure what that means, don't worry. Most college golfers didn't have a clue when they started out, either.
A good first exercise is to research and construct a list of schools you want to consider. How big a school do you want? Where is it located? What is its academic profile and what are your areas of specialty? These are just some of the qualities worth weighing before asking if the practice range has grass or mats.
Casting a wide net is encouraged but so is getting a sense of where you might fit in. An often-cited formula for prospective college golfers is to select schools where your scores equal those of the fifth-best golfer in the team's lineup (most college tournaments have teams of five players), but Dennis Hillman, director of player development for the Golf Performance Center in Ridgefield, Conn., says even that can be misleading.
Because most coaches care only about multi-round tournaments, high school golf or 18-hole club events are rarely part of the equation. College golf scores are expected to be higher owing to more difficult course setups and the less favorable conditions of fall and spring tournaments. "They want kids who are shooting a couple of strokes lower than their fifth player," says Hillman, who was an All-American college golfer at the University of Tulsa. "They're trying to improve their program."
More on college golf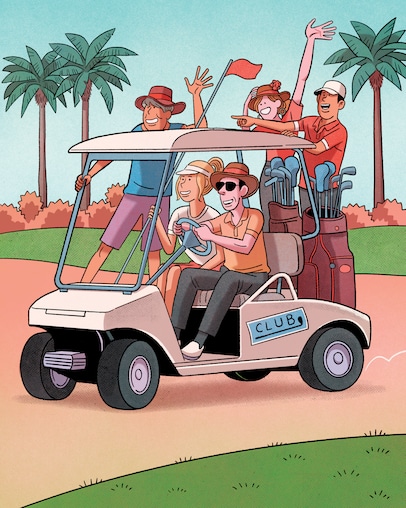 college golf Plan B for not making the team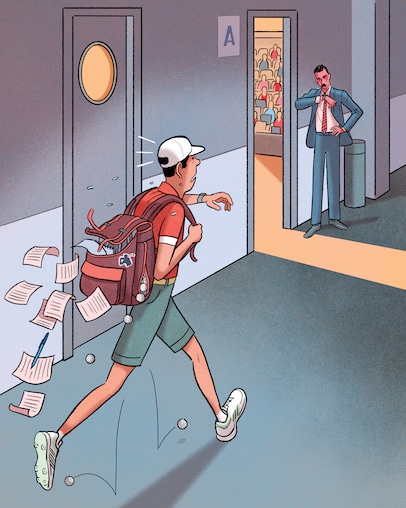 college golf 7 first-year college golf myths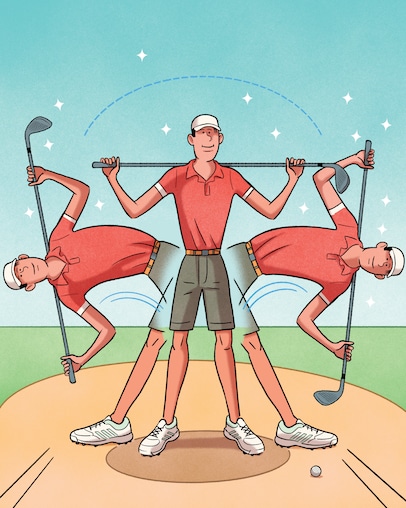 college golf How to become a college golf winner
Another way to gauge opportunity is to study the graduating classes of the players on the team's roster to find out the number of players four years ahead of you. If you're a high school junior set to graduate in 2025, and the college roster has five juniors set to graduate that same year, that means a coach may have several spots to fill in your recruiting class. Conversely, if the coach has only one, that means competition might be stiff.
Once you have your list, it's common for high school golfers to reach out to coaches via email. "You're just letting the coach know you exist," says Katie Miles, the former women's golf coach at Georgetown University who founded a company, Golf Globally, that helps junior golfers in their college search.
Having a standard template is OK, but Miles advocates for personalizing the email to show interest in and knowledge about the program. Otherwise, stick to the basics—a summary of your golf and academic background, a résumé and a sense of your upcoming schedule. Many players send swing videos, which need not be professionally shot, but give a sense of a player's general ability. "As a former coach I would get 15 emails every day from recruits, so you want to keep it short and sweet," Miles says.
More important than what is said in an introductory email is what you say in the next one, and the one after that. For coaches who are inundated with feelers from prospective players, persistence is a way to break through. "Unless they're seeing repeated interest, they might not be paying close attention to you," Miles says. "You might have a coach who's sort of passively following your progress, and then you do something amazing, and you send an email with an update, and then they're interested all of a sudden."
THOUGHTFUL PERSISTENCE IS A GREAT WAY TO BREAK THROUGH THE CLUTTER.
Like much of the college selection process, additional resources are available to prospective golfers at a cost. A consultant such as Miles, for instance, works with students one on one during the selection and outreach process. Another organization, College Golf Experience, hosts showcase camps with top college coaches featuring simulated practices and tournament rounds so coaches can evaluate players in different settings. Another opportunity is the Kerry Cup, which gathers 64 high school-age golfers in Waterville, Ireland, for clinics and competition alongside Ivy League and high-end Division III coaches. The weeklong experience costs about $5,000, excluding airfare, and allows players and families the type of casual interaction with coaches that paints a richer picture.
"It's so data-driven now, and coaches can go online and find out what kids have done since they were 12, but they get to know the kid behind the score," says Kerry Cup founder Michael Maher.
As much as college coaches are intrigued by what you've done, just as important is where they think you're headed. Miles and Hillman recommend players highlight what they're working on and the steps they're taking. "A ton of kids can play, so they're looking for intangibles," Hillman says. "What kind of teammate will you be? How do you handle adversity? Are you a quitter or a fighter? How are you going to represent the school? You can show a lot of this through effort and communication."
If a coach asks a player to send updates, that merely means the coach is open to hearing more. A key distinction is when the coach requests what Miles describes as a "call to action"—whether it's setting up a phone call or asking the player to visit or to submit academic information that gives a sense of whether the player would qualify academically.
"Unless there's a specific call to action, the recruitment probably is not as serious as the junior golfer or their parents might think," Miles says, "because if you're truly being recruited by a coach, you know it. You can feel it."
Are you good enough to play college golf? | Tips for talking to coaches | 7 first-year myths | How to become a winner | Plan B for not making the team | College golf course rankings
This article was originally published on golfdigest.com