Editor's Note: Golf Digest is breaking down everything you need to know about college golf from the recruitment process to advice from pros who've been through it to the best collegiate courses. Check out the complete syllabus below.
Myth 1: Qualifying is fair
It's reasonable to assume that the players who shoot the lowest scores in intrateam qualifying for a college tournament will always play in that tournament, but it can get complicated and emotional. Depending on the team, qualifying is generally two or three rounds to determine the five golfers who will play in an upcoming tournament. If a team is small or the top five players are obvious, qualifying might not happen at all.
Players with a pattern of playing great in qualifying and shooting big numbers in tournaments will often sit. If a player performed well at a tournament the year before and didn't qualify for it the next season, he might get an opportunity. A coach may even be persuaded to reward a player who puts in extra work.
Advocating for yourself can help, says Matt Ariza, who played at Division I Lamar University for two years before transferring to Division III Piedmont. Ariza would go to the coach if he thought he deserved a shot he wasn't getting. "It showed that maybe I cared more than some of the other guys who just accepted that the best number always plays. Sometimes you gotta fight for it."
More on college golf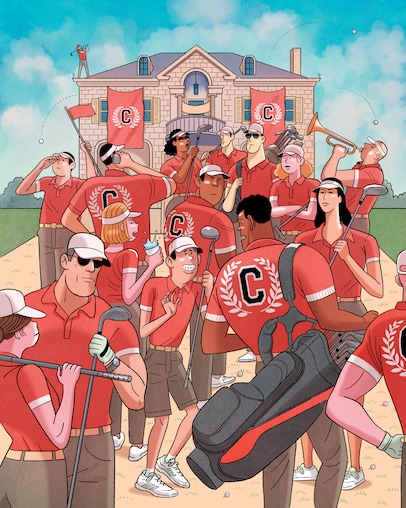 college golf Are you good enough to play college golf?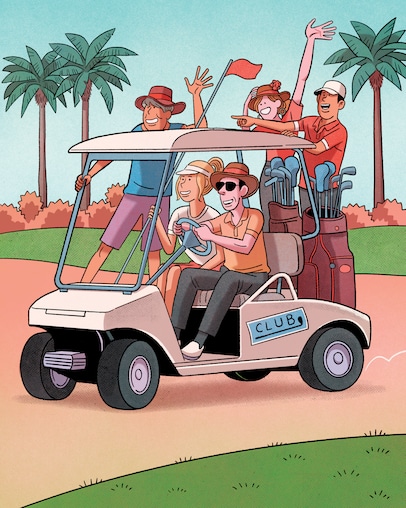 college golf Plan B for not making the team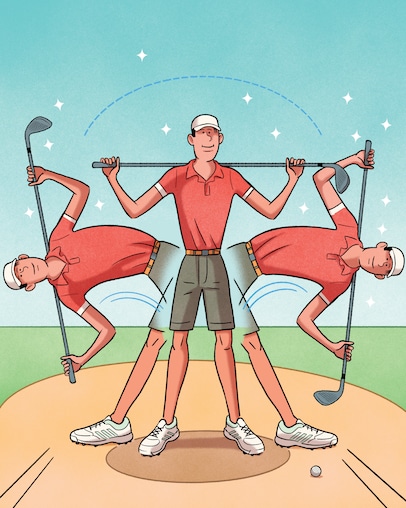 college golf How to become a college golf winner Myth 2: Academic choices are yours
If you're looking at a school's academic catalog thinking you can take whichever classes you want, get ready for disappointment. At a competitive Division I program, the practice schedule makes it nearly impossible for golfers to take classes with labs because labs are usually in the afternoons. Golfers typically don't major in sciences. Lindsey McCurdy played at Southern Methodist University and intended to major in graphic design, but that subject had labs, so she went with advertising instead. International relations was of interest to Kendra Dalton at Brigham Young University, but that required a language, and languages were offered only in the early mornings, which conflicted with practice. At less rigorous programs, players have more flexibility but not without difficulty. A golfer might be hustling to the course after labs even on qualifying days.
Myth 3: Juniors and seniors fill rosters
If you're entering a program as a freshman hoping to play a few tournaments among a roster of juniors and seniors, you might be surprised to find out many of the older players aren't keeping their games sharp. Realizing their playing days are winding down, some older student-athletes begin investing more in their professional futures, choosing the library over the range or a summer internship over tournaments. Conversely, a roster with first-year players and sophomores might represent a more competitive team in which to land starts.
Myth 4: You'll have a normal social life
College golfers can definitely relate to the common dilemma of student-athletes: "School, sports and social life: Pick two."
Golfers who want to party will find a way to do it, but many teams have rules like no drinking 24 hours before a tournament. "Team dinner the night before a tournament was usually the way captains would make sure everyone was staying in for the night," says Drew Stern, who played at Division III Dickinson.
Golfers have limited off-days to socialize. If your off day is Monday, you're trying to be social on a Sunday night when most of the student body is not. Team camaraderie is one of the great things about collegiate golf, but you're spending a lot of time with the same people. Many golfers make a point to live with friends outside of their team and join Greek life or clubs to make non-golf friends.
A TEAM'S PRACTICE SCHEDULE COULD AFFECT WHICH CLASSES YOU TAKE OR WHAT YOU MAJOR IN.
Myth 5: Getting along with your coach is all that matters
If you like the coach, the campus, the academic offerings and the teammates you've met, chances are you're feeling good about going to that school, but meshing with a coach's personality isn't the same as getting along with his or her coaching style. How structured are practices? How collaborative is the coach? Does the coach like to tinker with swings or refuse to touch them? "My coach was playing-oriented," McCurdy says, "but I was a practicer growing up." When Mc-Curdy was in a slump and wanted to fix her swing on the range, her coach sent her to the course. McCurdy says she was ultimately a better player for it.
When meeting a coach during the recruiting process, ask about his or her coaching style, and then decide if it works for you.
Myth 6: Missing class isn't a big deal
Making the travel team might lead you to assume that any class you miss is approved, but that's not always the case. At Lamar, Ariza's coach emailed the professors on his behalf in advance, and Ariza had access to as many tutors as he needed. However, when Ariza transferred to Piedmont, he failed to realize he needed to take control. "I went to the first three tournaments without telling anybody where I was. It was a mess. There were a lot of explanations and a lot of apologies."
Conflict can be avoided by talking to professors about upcoming absences to avoid surprises. Nevertheless, professors aren't always copacetic. Missing an exam, for example, requires a solution, like taking the exam on the road with your coach as your proctor.
Myth 7: Golf is an individual sport
As a junior golfer, you get comfortable doing what you think is best, but in college, golf is a team sport where you relinquish control. For many, having practice buddies leads to learning, with teammates as motivators. Being on a team isn't for everyone, and often players have an adjustment period.
"You have to recognize there's always room to get better, and you need to enjoy that opportunity more than complaining and whining that you're not playing or whatever it is," Dalton says. "It takes some maturity to understand that perspective."
Players transition well to the team atmosphere when they realize having other players around makes them better and that teammates make the pursuit of good golf a less lonely endeavor.
Are you good enough to play college golf? | Tips for talking to coaches | 7 first-year myths | How to become a winner | Plan B for not making the team | College golf course rankings
This article was originally published on golfdigest.com