[PHOTO: Tom Pennington]
One streak was going to end, while the other would achingly remain.
Ultimately Charley Hull shot a final-round seven-under 64 Sunday at the Ascendant LPGA benefiting Volunteers of America, clipping Xiyu Lin (65) by one shot. It marked Hull's second LPGA victory and first since the 2016 CME Group Tour Championship. For Lin, she continues to look for her first LPGA victory after playing in nearly 200 tour events in her career.
"I've come close a few times since," Hull said. "Now my game is there, it was just my confidence. I'm now confident."
Hull, from England, shot 67-64-71-64 for her 18-under par 266 total. Lin, from China, shot 65-68-69-65 for end at 267. New Zealand's Lydia Ko was third, two shots behind Hull.
Hull and Lin, both 26, started the day tied at Old American Golf Club in The Colony, Texas. Hull rattled off four birdies in a six-hole stretch on the front nine to jump out to a lead. She then made consecutive birdies on holes 12, 13 and 14 to take a three-shot lead with only four holes remaining.
"I get bored if I don't go for pins, and when I get bored I don't play as good," Hull said. "I find it interesting and excited, and that's when I usually play my best golf."
She still needed to find her best down the stretch because Lin delivered a late charge, making a long birdie putt on the par-3 16th hole, then following it up by making a 35-footer for eagle on the par-5 17th hole. At that moment, the two were tied, but Hull soon made her birdie on 17 from five feet to take the one-shot lead into the home hole.
Both players hit approach shots on the par-4 18th to a similar distance but Hull went first, putting from a couple inches off the green. She missed but tapped in for an easy par. Lin stood over a 15-footer for birdie to tie Hull and force a playoff, but she just missed it left.
Fellow countrywoman Georgia Hall stormed Hull with champagne, who promptly took a massive swig then dumped a bit over her own head.
"I can't remember what I was thinking," she said. "It was all a bit of a blur."
Lin, who turned professional 11 years ago as a 16-year-old, made an untimely bogey on the 11th hole but played flawlessly the rest of the way. She opened with a birdie to take the lead, followed it with one on the sixth, then shot four-under 32 on the final nine holes with the bogey and the eagle. It's another disappointing result, but this time it seemed easier to swallow than some of the other near-misses in the past.
At the beginning of the week you're telling me I'm going to shoot 17-under here and finish second I will take this any time," Lin said. "I always found this course is very challenging for myself.
"My coach and I had a joke, trying to see how high of a world ranking I can get without a win. I mean, it's not fun, but it's fun."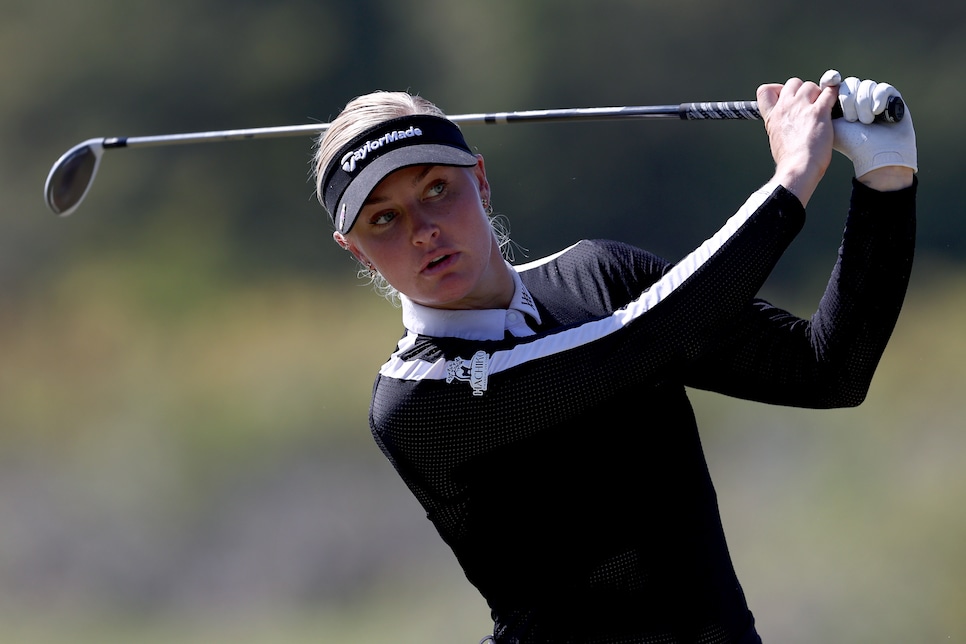 Hull burst onto the scene in 2013 when, as a 17-year-old, she was picked by captain Liselotte Neumann to play for Europe in the Solheim Cup in Colorado. She showed up that week with no expectations, collected a 2-1 record and defeated her idol Paula Creamer 5&4 in Sunday singles to help her team route the Americans that week.
Since then Hull has played in four more Solheim Cups, recorded an 11-5-3 overall record and is a machine in team formats but has not yet had as much individual success as she wished. She's won three times on the Ladies European Tour, now has two LPGA victories and has seven top-10 finishes in majors.
When Hull won her maiden LPGA event six years ago, she was thrilled, but slightly disappointed because it was the last event of the season. She felt she was in such great form that she wished she had more events to play, something she's happy that she does have this time.
"I've had some good results this year," Hull said. "Had a very similar season to my 2016 season, so I'm actually happy I've got a couple events left as well, because I felt like in the 2016 season if I had a few more I could have pushed on."