WHAT YOU NEED TO KNOW: Thew new Callaway Paradym iron line (featuring the standard Paradym and the more forgiving Paradym X) feature numerous shared technologies. Among them is a face made from a high-strength 455 stainless steel that allowed Callaway engineers (with an assist from artificial intelligence) to create a thinner face for more speed while creating a tighter dispersion pattern. To assist sound and feel, the company's hallmark urethane microspheres were used higher within the hollow-body clubhead.
PRICE: $359.99 per iron (steel)/$379.99 per iron (graphite) for both Paradym and Paradym X. Available at retailers across Australia from February 24.
RELATED: What you need to know about Callaway Paradym drivers
3 COOL THINGS
1. Stronger-lofted irons that fly high are nifty. The lofts on the two irons border on indecency (a 42-degree pitching wedge on Paradym and 41 degrees on Paradym X) but these hollow-body irons not only don't produce line drives, they fly remarkably high. That's due to a few things. One of the problems with hollow-body irons is mass located above face centre. A new design the company refers to as "Speed Frame" has three "pockets" or "windows" above the face centre where material is removed. The size of these windows changes depending on the iron, meaning more than two dozen iterations of them were needed. Now that's fine, you might say, but what does that have to do with creating height?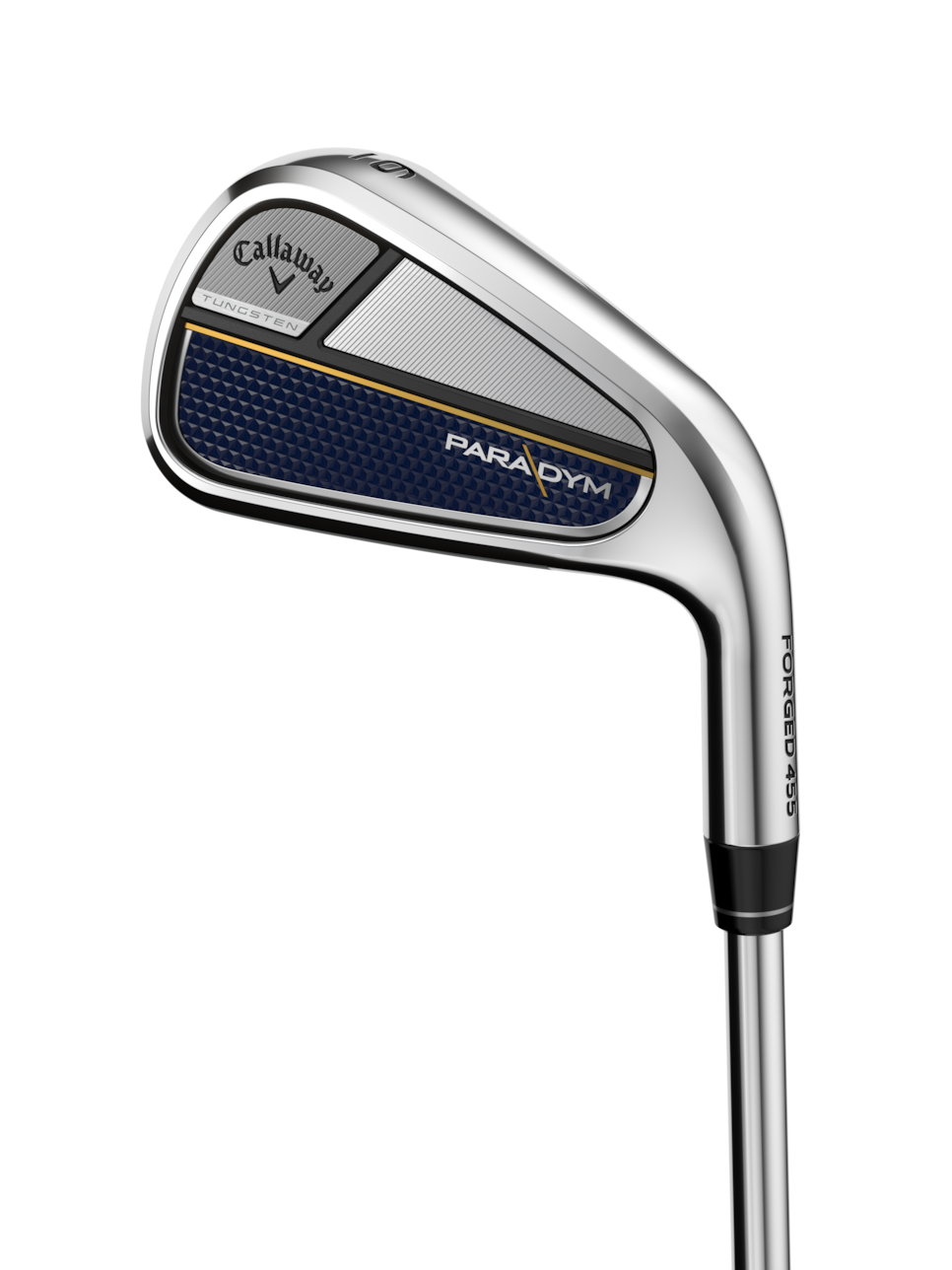 "We took the saved weight and moved it to where it was most advantageous," said Scott Manwaring, director of design for Callaway. Specifically, two metal-injection-moulded tungsten weights are used – one external, one internal. The external weight helps move the centre of gravity (CG) more towards the face centre while the internal weight moves the CG deeper than a typical body construction would allow. This helps provide the kind of height on approach shots golfers of all ability levels can appreciate.
Of course, all of this is useless if the iron feels like garbage at impact. Sound is always a concern in hollow-body irons, but was even more so given the windows where mass was removed. To combat the loss of mass higher in the head, the company filled the inside area behind the face higher with its urethane microspheres. "This provides more coverage and helps to balance the urethane windows for the best performing and sounding club," said Manwaring. "It's a delicate dance."
RELATED: What you need to know about Callaway Paradym fairway woods and hybrids
2. A new face material brings controlled distance. "We're introducing some things that we've never done before in irons." That was the first thing Manwaring said when we sat down with Callaway's R&D team to discuss these irons. Chief among those things was a new face design utilising a forged cup face designed by artificial intelligence that use a high-strength 455 steel – a material normally reserved for use in fairway woods and hybrids. This allowed the company to go thinner on the face but with a design that didn't just produce more speed (up to 2.5mph more compared to the company's Apex TCB iron), but better consistency as well (a 26 percent tighter downrange dispersion). One of the chief components to achieving that being the ability to reduce fliers on shots hit high on the face.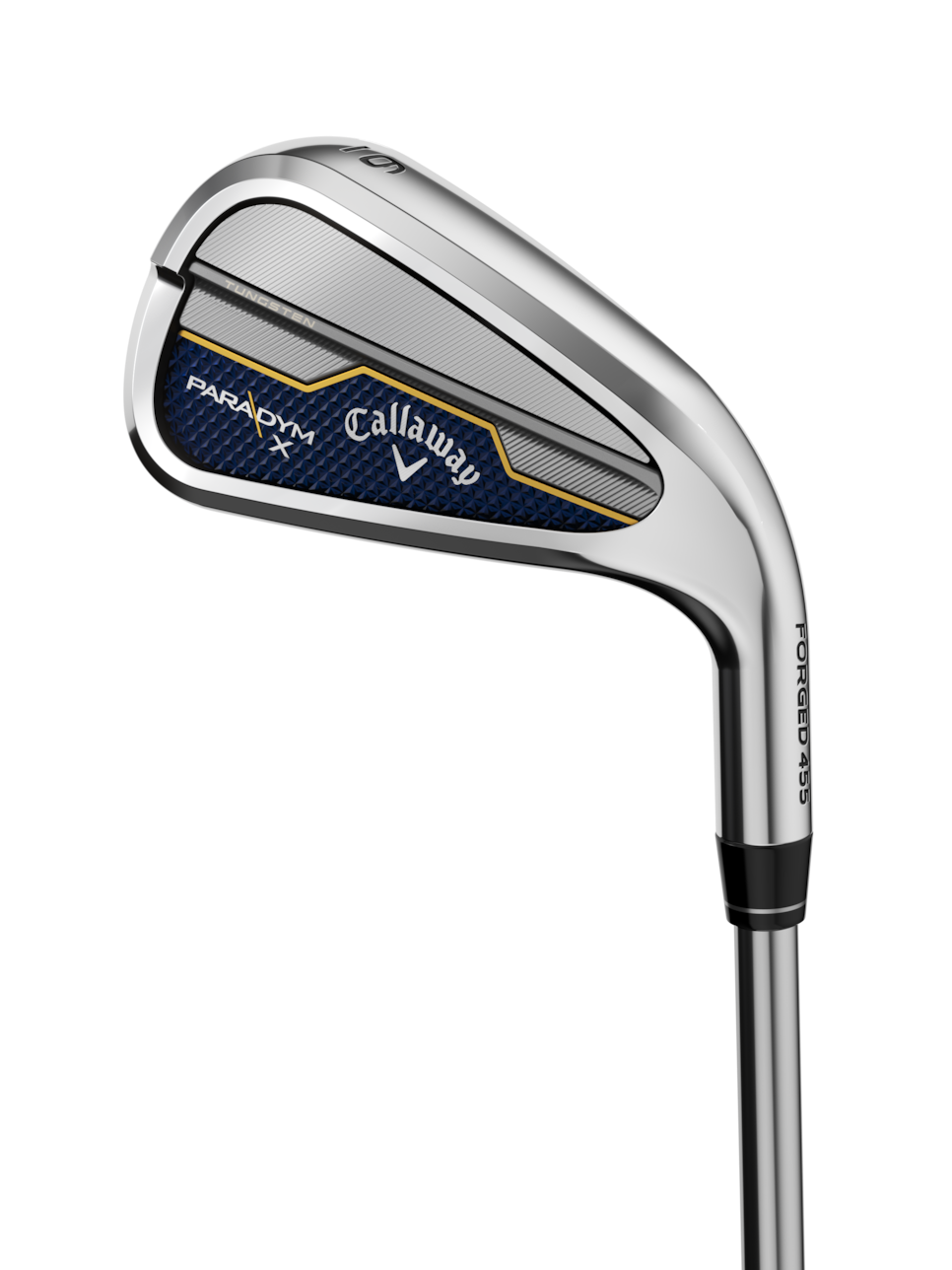 "The 455 material gave our artificial intelligence more freedom to go thinner," Manwaring said. "The saved weight was then used to optimise more consistent ball speeds and spin across more locations on the face. In short, trying to mitigate the flier shots. Those high on the face previously reduced spin too much which led them to go too far."
3. Which one's for me? It would be easy to simply say if you're looking for a players-distance iron, choose the Paradym and if you want more game-improvement features, go with the Paradym X, but there is more to it than that. Fact is, both have traits that bring plenty of distance, so the choice is more nuanced than that. If looks matter, the Paradym is a cleaner package with a slightly thinner sole, a noticeably thinner topline and just enough offset that produces a look that not only comfortably cradles the ball at address, but makes you feel as if shaping shots is do-able. The Paradym X has slightly more heft at address, which not only exudes the horsepower within the club, but can be comforting to those that tend to miss the centre of the face a little more often.