ROME — It wasn't so much a shot as it was a formality, because Brooks Koepka's ball had not stopped moving by the time his cap was off and his hand was extended to his opponents. The cockiest gunslinger in the game had been run out of town and in a manner that demystifies that very aura he desperately tries to cultivate.
Because anyone can be a bad man when things are good. What makes a bad man bad is standing firm in the storm. And Koepka just got blown into the Mediterranean Sea.
A day after running his mouth and taking an unprovoked shot at Jon Rahm, Koepka (along with Scottie Scheffler) suffered the worst loss in Ryder Cup history, losing 9 and 7 to Viktor Hovland and Ludvig Aberg.
Hovland is the reigning FedEx Cup champion who is quickly proving himself a match-play assasin, and Aberg's performance through two days at Marco Simone very much backs up the hype he rode into Rome. In all due respect to the European stars, this was a match lost, not won.
Scheffler and Koepka opened with double bogey, bogey, double bogey to go 3-down through three holes. Aberg and Hovland made birdie at the par-3 fourth to go 4-up through four. The Euros also won the sixth, and the eighth and the ninth for good measure. For those of you scoring at home, that is 7-up through nine holes. To their credit, Hovland and Aberg won those final three with red numbers. Those holes were also uncontested, with Scheffler and Koepka turning in 40.
For posterity two more holes were played. It is unclear if they were played with will or heart, both Americans seemingly going through the motions. There was another bogey on 10 and it took four shots—four shots—to reach the driveable par-4 11th before the match was conceded. The previous biggest beatdown in a four-player match was 7 and 6 (which happened three times), and two prior singles matches ending 8 and 7.
If that was that, it would be bad, but nothing more. Nothing has gone right for the Americans through three sessions and the team is battling an undisclosed health issue. It's also worth mentioning that Scheffler and Koepka played the best collective match of Friday against Rahm and Nicolai Hojgaard, with the Europeans needing a miraculous, and somewhat lucky, 30-footer from Rahm on the 18th hole to salvage a tie.
Except after the match, when asked his thoughts about the round, Koepka used the opportunity to take a swipe at Rahm. "I think me and Scottie birdied 14, 15, 16, 17, 18, and then lost by two," Koepka said. "So yeah. I mean, I want to hit a board and pout just like Jon Rahm did. But, you know, it is what it is. Act like a child. But we're adults. We move on."
For a second, put aside the irony of Koepka claiming he's an adult while his words prove the opposite. The bigger problems are threefold.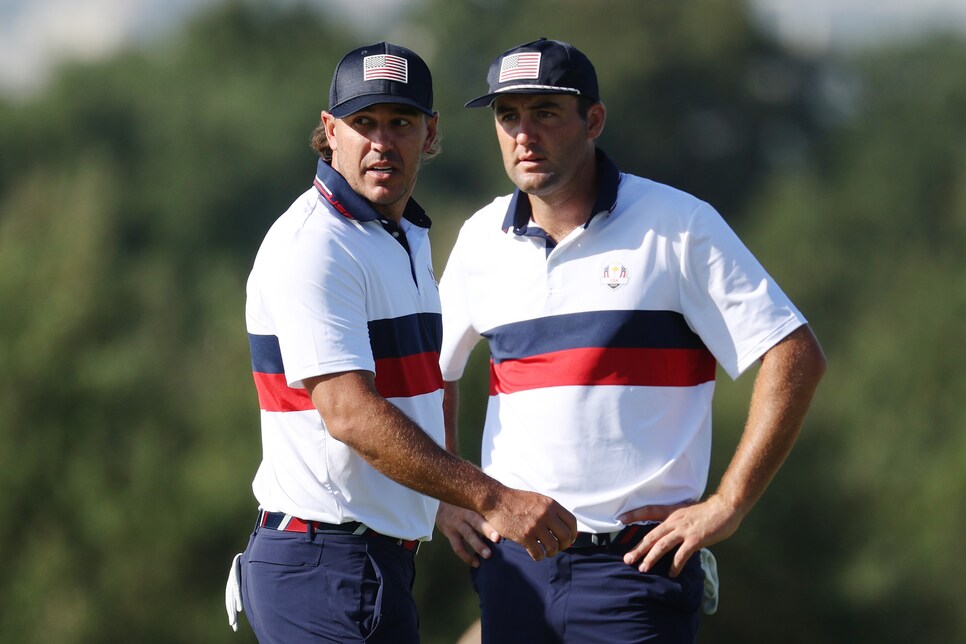 Brooks Koepka and Scottie Scheffler react upon losing their match.
Patrick Smith
The first is the United States' history of looking like ugly Americans in this event, especially in losses. It can come off as shushes to the crowd or throwing teammates and captains under the bus, of premature celebrations and hubristic proclamations and general ignorance and uncouth behavior. The heart of this event is supposed to show the best of the game, but often the U.S. has unveiled its worst. By ripping an opponent—one as respected as Rahm, no less—Koepka came off as a poor sport.
The second is a lack of self-awareness. Yes, Rahm has a history of running hot. He's also proven to be one of its most astute and reasoned voices in golf's civil war over the past two years, speaking with poise on a matter that tends to get heated. Rahm let us know what he believed was right without saying who was wrong. Koepka? He had previously said someone on the PGA Tour will sell out and jump at the Saudi money. Well, he was right, as he signed with LIV later that year. While Koepka has to answer only to himself for his Faustian bargain, it confers him zero right to criticize the conduct of others.
But the third is perhaps the most straightforward of all. There's a universal principle in sports: You talk smack, you better back it up. Koepka's self-confidence always borders on arrogance, and that type of conviction has fueled his success. But he's now had a track record of being alpha'd. By Rahm at the Masters. By Phil Mickelson at Kiawah. By the field at the 2020 PGA when he said he didn't see anyone that could stop him only to shoot a Sunday 74. Koepka envisions himself as golf's big, bad bully … except his opponents keep putting the bully in bodybags.
For what it's worth, Koepka was not alone in defeat. Scottie Scheffler played just as bad, if not worse, than Koepka. But not long after their match, TV cameras caught Scheffler crying. He knew what had happened was inexcusable; he was hurt that he let others down. That may come off as weak yet nothing could be farther from the truth. Both Scheffler and Koepka will get chances at redemption. Only one deserves it.
MORE FROM GOLF DIGEST @ THE RYDER CUP
All 24 players competing at Marco Simone, ranked
15 moments that made the Ryder Cup golf's most compelling event
How to watch the 2023 Ryder Cup on TV and streaming
Ryder Cup homefield advantage is so big it's almost unfair
How the Ryder Cup ended up at little known Marco Simone
Video: Every hole at Marco Simone
An unprecedented deep dive into Ryder Cup performance
Crazy rules s#*@ that only happens in match play
The science of remaining calm at the Ryder Cup
One writer's love affair with golf in Italy
Lessons learned by 5 U.S. Ryder Cup captains who lost in Europe
Biggest hotheads in Ryder Cup history
Stats that show who should be given putts and who has to putt everything out
15 best Ryder Cup captain's picks of all time
This article was originally published on golfdigest.com