You can't deny that Paige Spiranac is the Renaissance Woman of our times. From college golf star to a pro golfer to Maxim cover model to social media expert to podcast host to advertising guru, Spiranac dabbles in seemingly everything, thriving in a loaded golf media landscape. Well, now, she's back once again with a new assignment: Author.
Spiranac and her sister Lexie Mitchell are set to release a children's book called "Hattie Goes Golfing," which is attempting to get more kids into golf. Pre-sales are available through Back Nine Press, including signed copies for those who order early, and the book will ship in November.
We don't want to spoil anything, but here's the synopsis for the book: Hattie the Gopher wishes she could golf. She loves watching golfers at the golf course she lives near, but all the other animals that golf are large and know what they are doing. Some animals say she's too small, and that gophers aren't welcome. But that won't stop Hattie. She is determined and won't listen to the haters. One way or another, she is going to find her place on the golf course.
The intended age group for the story is between three to nine years old and focuses on looking for acceptance in the golf community, which feels fitting for the author. Spiranac jumped on her Instagram Story while at Club Champion to promote the book and said as much.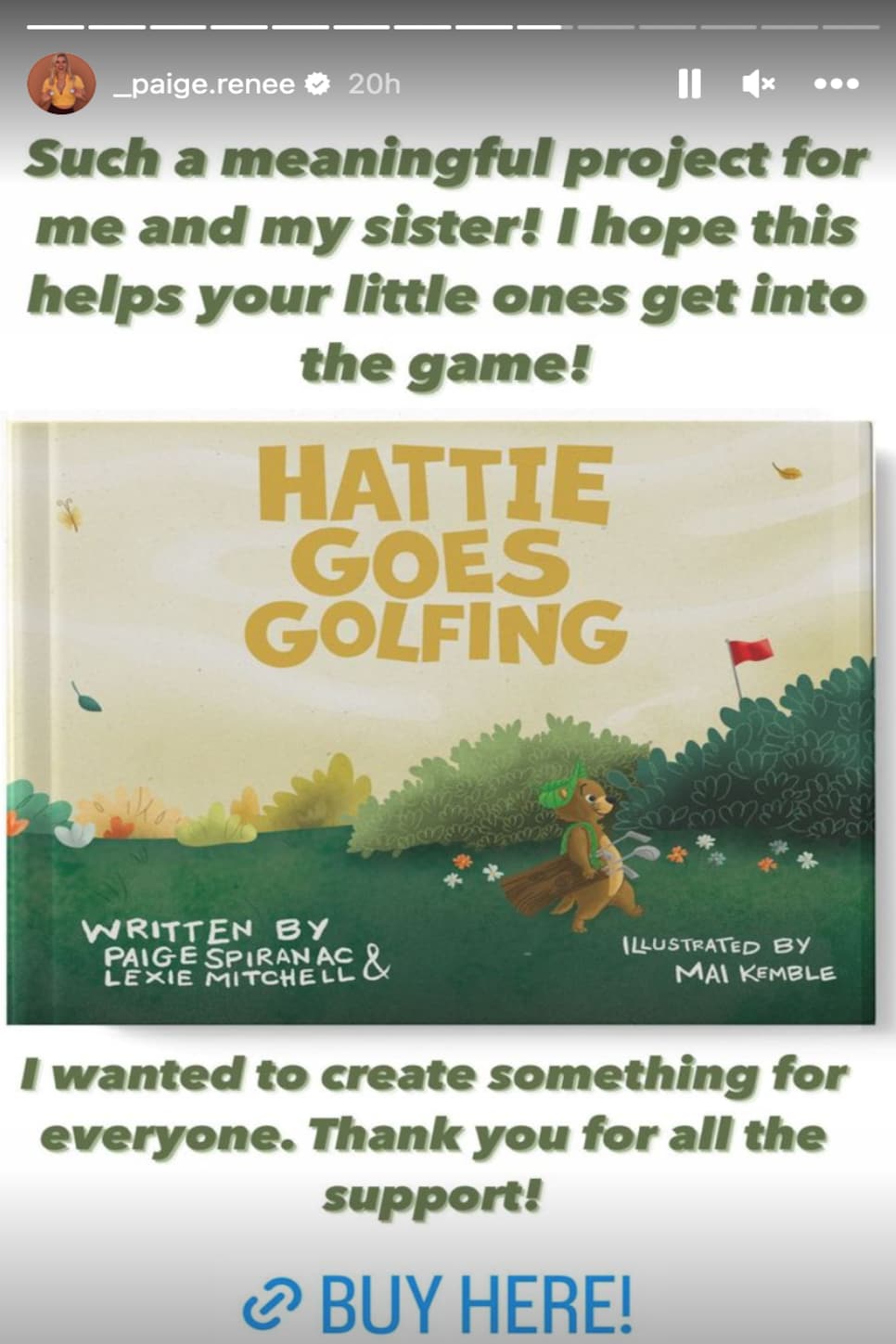 "I have some really big exciting news, and I've been dying to share it with you guys for a very long time and I finally can now.
"My sister and I wrote a children's book, I'm sure you're like 'huh, what, why?!' and it's something that we've wanted to do for a very long time.
"As you guys know I've talked about this… I haven't always felt accepted in the golf community and the golf industry, and so we wanted to share that story and I owe everything that I've ever done to golf and so this is my way to give back, and so I think that it's for everyone, you're going to enjoy it, but especially for your kids. Three to nine is kind of like the target age we are going for, but again, it's for everyone. We're doing pre-sales right now. It will mean so much to me, so please, go buy."
With Billy Walters' Phil Mickelson "Gambler: Secrets from a Life at Risk" dropping soon, this could be the perfect back-to-back reading. It's going to be September soon, which means that the holiday season is right around the corner. Make sure to get the book about a golfer looking for acceptance … and the Paige Spiranac gopher book too.