Spend some time in the world of competitive junior golf, you'll quickly realise it represents the very best and the very worst of the game.
For every child whose enjoyment of the sport is enhanced by the spark of competition is one whose passion is crushed by the pressure applied by his or her parents.
It's a difficult line to walk as a parent, but if anybody knows where the line is, it's Tiger Woods. Tiger's father, Earl, played an extremely active role in his own development as a junior, and Tiger to this day is grateful for it.
Now it's his turn to nurture Charlie's passion for the game.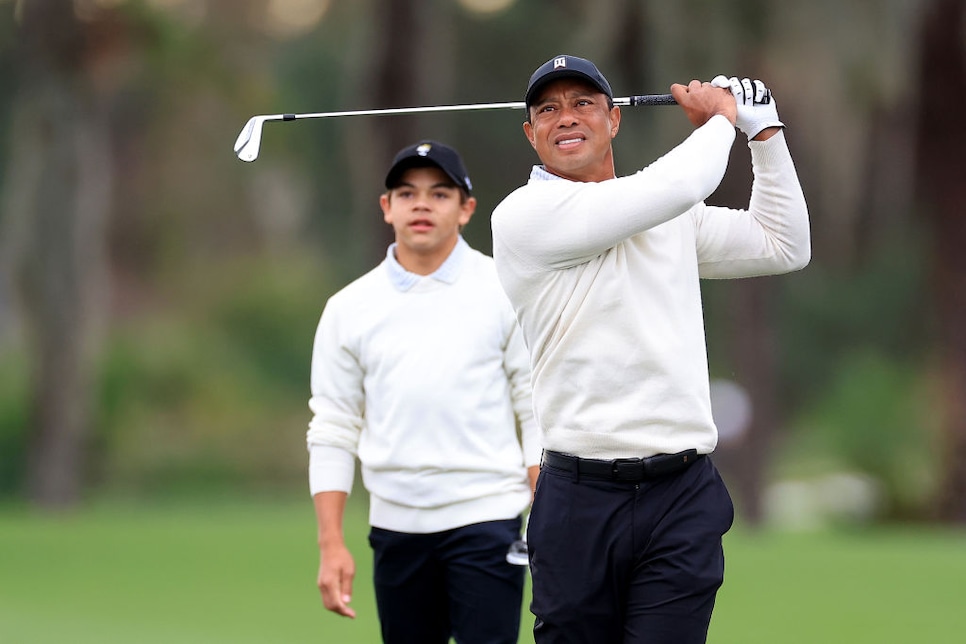 So, on the eve of the third PNC Championship the pair were playing together, and with Charlie navigating his way through the professional golf scene with more pressure than most juniors could even imagine, I asked Tiger a simple question: what separates a good golf dad from a bad golf dad?
Good golf dads: supportive, encouraging
For Tiger, the essence of being a good dad to a junior – in any sport – requires two things: encouragement, and support. You want to encourage your junior to work hard and to work through the bad days, but not to do the pushing yourself.
"I think that being a parent in any sport is about being supportive and being encouraging," he says.
Bad golf dads: pushy, controlling
It's that support and encouragement, Tiger says, which allows you to help your junior navigate their way through the world, with your subtle protection and guidance. If you cross the line and become pushy, your junior won't learn the lessons that sport is so wonderful at teaching.
Ultimately, you're trying ot protect your child, Tiger says. Their enjoyment of the game, and the values it entails.
"I have been fortunate enough that my father was into golf and understood sports. He played sports. He understood the work ethic of what it takes to play sports at a high level," Tiger says. "Being a parent, you always want to be the protector and guider of them and teach them skills that they will need in life when you're not around. And so that's the most important thing about being a parent."