It was a day that called for bundling up, and Adam Svensson had that part sorted, his head covered in a beanie and his body cased in a rainsuit. But when the hard part was over – which Svensson had made look easy – no amount of layers could keep him from coming undone when realising the dream he had worked so hard for was now reality.
On a weekend when Sea Island's Seaside course was vulnerable, Svensson proved himself the man to conquer it, a final-round 64 good enough for a two-shot victory at the RSM Classic.
"It's not even real right now," Svensson said through tears. "I'm just so happy. I just put so much work in, and to win on the PGA Tour means everything to me."
If Svensson is a foreign name, you're forgiven. Technically it is foreign even to an American audience as Svensson hails from Surrey in Canada, but we digress. The 28-year-old entered the week ranked 174th in the world, and though he's in his third season on the PGA Tour, he had failed to post a top-five finish in his 69 career starts. Moreover, Svensson had missed the cut at Sea Island in three previous appearances and had not been playing particularly well so far in the northern autumn.
That included the start of this week, when he opened the RSM with a 73. Svensson bounced back with a 64 on Friday to make the weekend, but sitting T-43 and seven shots off the lead through 36 holes, his name was not one expected to be a part of the weekend proceedings. Then Svensson showed that 64 was no aberration with a 62 on Saturday, putting him among a crowd of 12 within two shots of the lead.
For the better part of Sunday that's what it remained, a crowd, no one able to break free, with cold, windy, overcast conditions ensuring there would be no fireworks. Callum Tarren went out in 31 and birdied the 10th to look like the player to beat, but over the last eight holes he managed just one more red figure to finish with a 17-under 265 total. It was an impressive score for the Englishman, yet with five groups on the course it felt like a number that would be matched, if not surpassed. Brian Harman came inches away from an albatross at the par-5 15th, and an eagle there along with a birdie at the 16th put the Sea Island resident at 17-under with two holes to go. Sahith Theegala, playing with Harman, more than erased a double-bogey at the seventh hole with four birdies in a six-hole stretch to reach 17-under as well. But needing birdie 3s at the last, both men walked away with a 4.
We say "needing" because behind them Svensson was holing everything in sight. Historically a bad putter, Svensson spurred a birdie run by knocking in a 20-footer at the eighth, dropping a 36-footer at the 10th and a 16-footer at the 11th to reach 17-under. He opened the door for Theegala and Harman by making par at the very birdieable 15th, but promptly shut it for good with back-to-back birds – both from putts longer than 10 feet – at the 16th and 17th. The man who ranked 183rd in strokes gained/putting a few years ago gained a whopping 9.16 strokes over field the final three days at Sea Island.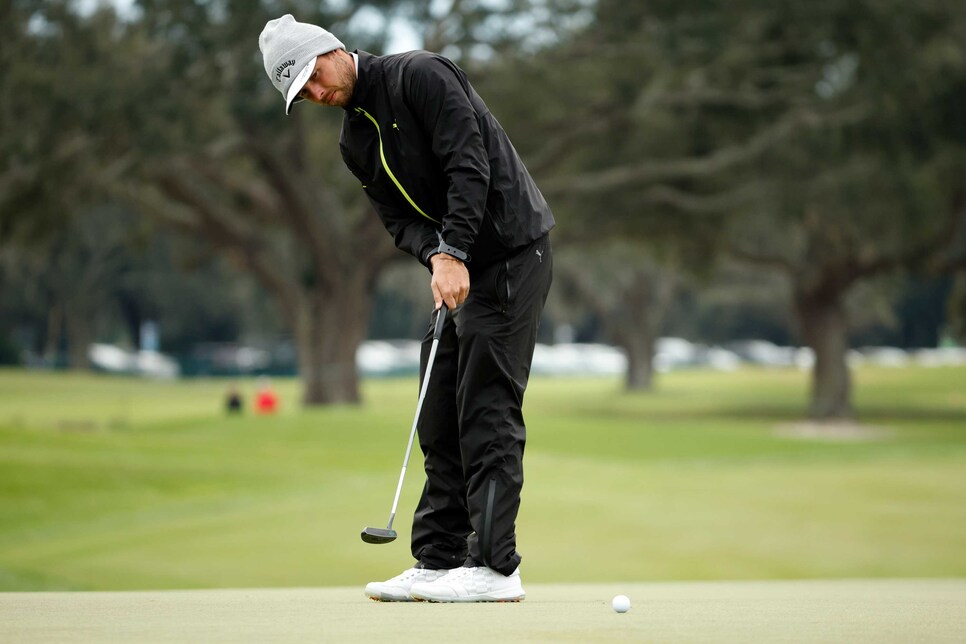 "I changed my stroke a little bit on Friday and then it was feeling really good," Svensson said, when asked about his short-game magic. "I just kind of stuck with it."
First wins are seen as a breakthrough, and this certainly applies. (He was the eighth winner in the RSM's 13-year history to make it his maiden tour title.) However, Svensson's true inflection point didn't come this week but many, many weeks before, back in 2019.
RELATED: The clubs Adam Svensson used to win the 2022 RSM Classic
Svensson had earned his PGA Tour card late in the previous year but failed to do anything with it, finishing 167th in the FedEx Cup. His demotion to the Korn Ferry Tour proved to be a wake-up call. In his words, he realised he wasn't as good as he thought, that working hard is not for extra credit but a prerequisite on tour. He contemplated quitting, wondering if he had what it took to rectify what went wrong.
Yet Svensson believed his sense of direction was still true, he just needed another path. Rather than practise for a few hours each day, he devoted all daylight hours to his craft. He began training with a performance coach and cut alcohol from his diet.
"I relied mostly on talent when I was younger. I didn't put enough work in, I wasn't that disciplined," Svensson said. "Like I said, two years ago I decided to give it 100 percent and I've been super disciplined on, you know, I don't drink anymore, I go to the golf course every day, I'm up at 6, I give it 100 percent now. That's the reason."
Because his year back in the minor league coincided with the onset of the pandemic, he ended up spending two northern summers on the Korn Ferry circuit. Still, he got his card back by winning twice and promised himself he wouldn't let the second chance go to waste.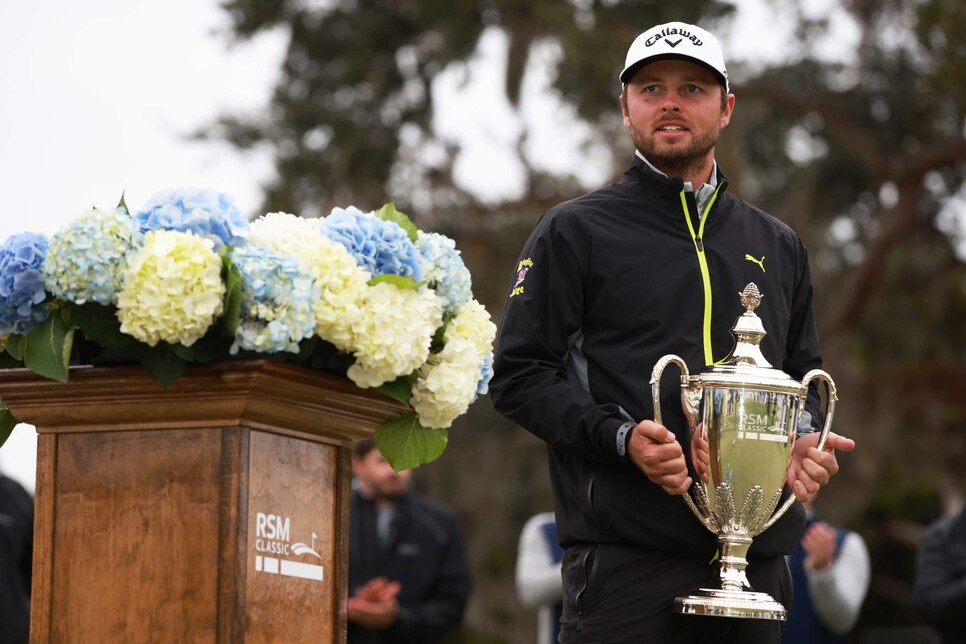 He hasn't, and this win secures his playing future for some time. Yet in the win's afterglow Svensson eschewed all the goodies coming in his direction – invites to the Masters and PGA Championship, a trip to Hawaii, lots and lots of money – and instead focused on the past. Where he had been and what it took to get here while carrying the weight of an impalpable unknown.
"I didn't even think about [the exemptions] until it was brought up to me 15 minutes ago," Svensson said. "I'm more proud of what I've accomplished from the direction I was to the direction I've gone now, it's more fulfilling than money to me. I'm more just proud of myself for things I've been doing."
Maybe that's why the usually stoic Svensson became emotional when his ball disappeared on the final hole. Forget the exemptions and money and trophy. Svensson bet on himself, and this week proved it was a damn good bet to make.